Cerwin-Vega
XD3 Studio Monitor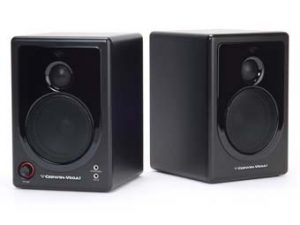 With the explosion of home-studio creations being churned out by would-be recording artists and ProTools boffins, Cerwin-Vega saw the need to marry an above-average studio monitor with an affordable computer speaker that delivers clarity, accurate imaging, and over-the-top bass. Cerwin-Vega claims the XD3 "fulfills this monitoring mandate by transforming any desktop work area into a capable listening environment for music lovers, gamers, those enjoying online videos, and musicians." It's not just a speaker, it's a mandate.
The XD3 features self-powered cabinets in a master/slave configuration with a low-noise, 15-watt stereo amplifier that integrates a 3-inch woofer and half-inch tweeter, fed to passive crossovers that offer a smooth transition from mid range to high frequency that studio types would apprecaite. Sized at 8x 5.5×6.5, the XD3 is made to fit the most cluttered desktop. Each cabinet is made from wood for a natural sound, and the cabinets are magnetically shielded to maximize speaker-placement options near computer monitors.
In order to appeal to a wider audience, the XD3 was also designed to be a "flexible desktop media device" by offering convenient external inputs. In other words, it will also connect to your iPod, iPad, or Android phone. An 1/8-inch stereo auxiliary input provides the source. A headphone jack is also provided. Weighing about 6.5 pounds, the XD3 is light enough to transport to your guitarist's house, while you finish tracking your masterpiece. Suggested price is $299. For more info, visit cerwin-vega.com.
Eastwood
Airline Bighorn Guitar
Seemingly inspired by the Nuggets-era garage bands who made some of the first punk-rock singles (during those confusing times following the British Invasion), Eastwood's Airline Bighorn guitar blueprints the original Montgomery Ward student guitars of the 1960s, but is delivered in in its current incarnation as a professional-grade axe. With its squatty design stance it could be mistaken as a short-scale guitar, however it is a full Fender-size length of 25″. The stripped-down Bighorn features Eastwood's popular Airline Argyle Diamond pickups, three-way switching, dual volume/ tone controls, and a "fixed" adjustable bridge.
Like guitars made in the '60s, its simple design has a solid basswood body and a maple bolt-on neck with a raised metal Airline logo on the headstock. It's available in green, red, and sunburst finishes, and an airline hardshell case is also available.
"The original 1960s Airline Bighorn has been an indie-band favorite for many years," said Mike Robinson, President and founder of Eastwood Guitars, "but they are becoming very hard to find. That is when we like to step in and offer an alternative to the original that plays and sounds better at an affordable price. At a street price of only $399, we've more that hit the mark with the Bighorn." Like he said. For more info, visit eastwoodguitars.com.
Martin Guitars
Headstock Trademark
After years of dealing with knock-off Asian and Ameri-can-made look alike guitars that caused confusion in the marketplace, C.F. Martin & Co., one of the largest and oldest manufacturers of acoustic guitars in the world, has announced the trademark of the distinctive headstock configuration it has been using on its guitars for more than 161 years.
"The clean, simple, iconic shape of the Martin guitar headstock has long been recognized by consumers as one of the primary identifying brand and design elements of our guitars," said C. F. Martin Vice President, Gregory Paul.
Now comes the hard (and expensive) part for Martin: enforcing their trademark.
— David Gedge