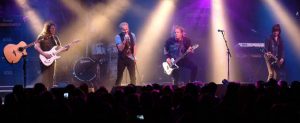 By 1980, you needed to keep Major League Baseball's official scorer's guide to keep track of who was and wasn't in UFO. Long associated with former guitarist Michael Schenker (whose main group, MSG, is also an anagram), it's time to sort this out.
The current lineup is headed by frontman Phil Mogg and drummer Andy Parker, who, luck would have it, founded the band in 1969. The Londoners came into the game just as the British Invasion and psychedelic rock were coalescing into guitar-heavy arena rock, though it took time for them to establish a reputation in the U.K. and U.S. UFO's creaking evolution made an almost instantaneous leap with the addition of former Scorpions guitarist Schenker, however, and further strengthened when keyboardist Paul Raymond (also in the current lineup) joined.
Accordingly, the band's fortunes changed again when Schenker left in the late '70s, and the carousel began to spin at a dizzying pace. Several breakup attempts finally took hold in the mid-'80s, though the band and Schenker reunited in '93. While it seemed their existence began to depend on Schenker's participation, they've continued strongly without him for nearly a decade now, boasting '80s guitar-magazine stalwart Vinnie Moore in his place, though founding bassist Pete Way remains sidelined by health issues. They're currently supporting The Visitor.
Follow? (Friday@House Of Blues in Chicago and Saturday@Arcada Theatre in St. Charles.)
— Steve Forstneger
Category: Featured, Stage Buzz, Weekly