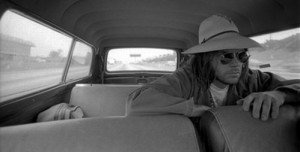 Neil Young strolled onto the stage at the Chicago Theatre on Friday night as casually as a man entering a friend's living room. He patiently surveyed the sparse surroundings, almost as if he was taking inventory for his two-night residency. But, as soon as he slipped on an acoustic guitar, he was all business.
Young will go into the history books as one of the greatest songwriters of his generation. Reminders came in the form of classics like "My My, Hey Hey," "Helpless," and "Down By The River." But the night wasn't about all about songcraft and trotting out the hits. In fact, it emphasized epic sound, sometimes at the expense of precision structure.
Young's most recent release, Le Noise (Reprise), is a collaboration with famed producer Daniel Lanois (U2, Peter Gabriel). Using a series of looping amplifiers and effects pedals, the duo created a tornado of noise using only a single guitar and Young's rich, expressive, and immediately recognizable tenor. It was this material that sparkled in the pristine confines of one of the city's finest venues.
The 65-year-old squeezed out torrents of melodic noise from a variety of sources. His lived-in acoustic did all the heavy lifting on "Peaceful Valley Boulevard," enveloping the audience in a sonic blanket. "Hitchhiker" enlisted a black Les Paul and used the titular character as an autobiographical metaphor, the lyrics condensing decades worth of substance abuse and life on the road into a tone poem and a cautionary tale.
Along the way, some compositions even got reinvented. A pump organ transformed "After The Gold Rush" into an eerie, horror-film soundtrack, and "I Believe In You" reveled in intimacy, with its anorexic frame plotted out on the back of a baby grand piano. Even the obscure "Leia" took a playful ride on a battered old upright.
But Young wasn't in the mood to play nice. The thunderous push toward the evening's finish line kept deferring to his phalanx of distortion pedals. A torrid "Rumblin'," and a feedback-laden "Cortez The Killer" soon gave way to a corrosive run through "Cinnamon Girl." This was music that was meant to be felt as much as heard, made all the more obvious when I placed a foot on a wooden panel in front of me and it kept my balcony seat from vibrating uncontrollably.
— Curt Baran
Category: Featured, Live Reviews, Weekly