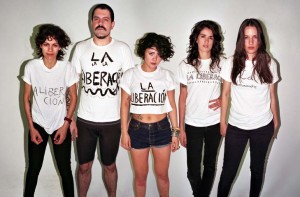 There's a particularly virulent strain of nostalgia permeating electronic dance music (see Cut Copy, Holy Ghost, Foster The People) that appeals to older audiences who immediately connect through reminiscing, as well as, hooking young hipsters who approach it with wide-eyed exuberance.
Playfully acknowledging that crossover appeal, without delving too deeply into the intellectual or musical constraints of the genre, CSS (an acronym for the Portuguese phrase, "Cansei de Ser Sexy" literally, "got tired of being sexy") injects its new wave sound with pulsating guitars and skipping beats. Amped up in a live setting, CSS set the room on fire, and transformed a cautious, sedate crowd into a frenzied rave party by the end of its set.
Tired of being sexy? Judging from the pulse-quickening appeal and sultry gyrations of lead singer Lovefoxxx, you'd never know it. With syncopated beats and snappy synths riding shotgun with shearing guitars and Lovefoxxx's hotly breathed voice, CSS does nothing but exude humid, unadulterated sexiness. Flashing strobes and colored spotlights flooded the room with a dizzying array colors as CSS cranked out ravishing renditions of "Music Is My Boyfriend" and their international hit, "Music Is My Hot Hot Sex." Rump-thumping, hip-shaking numbers, "Off The Hook" and "Rat Is Dead," provided further evidence that a CSS concert is colorful, energetic, and sexy as hell.
Where CSS merrily skips along that line of electro-pop/punk, Sleigh Bells blows up at the extreme end of the spectrum. Gushingly lauded and roughly derided in disproportionately undeserving measures, Sleigh Bells' intoxicatingly abrasive sonic smash-up is an adrenaline-fueled sugar rush that explodes in a live setting. Never mind that 99-percent of the music is cranked out by a little, hardworking laptop, or that half of the Marshall cabs clustered on stage appear to be props (it's not even remotely loud enough given the number and size of the stacks), the songs are exhilarating, cathartic kicks, and the massive distortion and overblown bass seem driven to obliterate such meddling observations.
Derek Miller and Alexis Krauss threw themselves across the stage with wild abandon, bathed in fog, lightning-flashing orange fire strobes, and LED banks, ripping through almost every cut from Treats (Mom & Pop). Slayer's "South Of Heaven" has been replaced by Sabbath's "Iron Man" as the set intro, and once the bristling distortion of "Crown On The Ground" comes crackling out of the monitors, Sleigh Bells let loose. Krauss stripped off her jacket to reveal Sleigh Bells' clever take on sportswear: a #23 jersey with "Bells" replacing "Bulls" on the front, and "Slay" replacing the "Jordan" nameplate, before tearing into "Tell 'Em" followed by the crazily catchy beach anthem, "Kids." Except for the sing-along ballad "Rill Rill," none of the songs lingered past three minutes, and after a fire-dash 30 minute set, Sleigh Bells slipped off stage so the underage kids could still make curfew.
– Patrick Conlan
Category: Featured, Live Reviews, Stage Buzz, Weekly