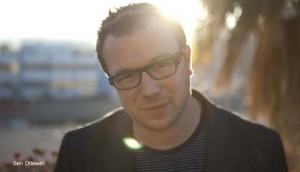 Though the blame often lies squarely on our foreheads, it's easy to shift it to downloads and the transformation of MTV into a teen-lifestyles network regarding our disconnect with bands.
Plainly spoken, we don't know what anybody looks like anymore and the loss of a visual component has made us dim. More than 50 percent of the music IE receives for review comes digitally, usually acquired from the interchangeable Sendspace/Yousendit/Dropsend interface, or maybe just an e-mail with a link to a zip file that launches a blank browser window in the process.
The reason we mention this is because while listening to the lovely Shapes And Shadows album, we remarked to ourselves how much artist Ben Ottewell sounds like the guy from Gomez. Well, duh. It's an especially egregious lapse on our part, because Gomez have been around since the '90s. And IE has profiled the band. Spank us and call us Sally.
It's a compliment to Ottewell, actually, that he could strike such a familiar chord without completely evoking the project that made his name. Shapes And Shadows (ATO) retreats from Gomez's newfound fame on the jam circuit for straightforward singer/songwriting, dipping in a waltz ("Step Right Back") and recalling one of Wilco's darker tracks ("Chicago"). (Friday@Schubas with David McMillin.)
Last weekend we shoved you in the direction of Detholz, and this week we give you another section of the Makeout Party Orchestra: Mucca Pazza. First, unlike the Ottewell/Gomez conundrum, there's nothing that would give away a connection between Detholz and MP. A self-dubbed "circus punk marching band," the latter's first encounter with IE was at the Hideout Block Party when — having recently been acquainted with Sufjan Stevens' Illinoisemakers — we assumed the marching band was just a festival-only garnish for some indie-rock/alt-country act we hadn't seen yet. And then they didn't leave the stage. But Chicago is a natural home for such an eccentricity; if Reginald Robinson can pursue the ends of ragtime, surely marching band doesn't have to be relegated to parades and school sports. (Friday@Mayne Stage with Aleks Eva and Josh Abrams Natural Information Society.)
— Steve Forstneger
Category: Featured, Stage Buzz, Weekly