The Iron Man Cometh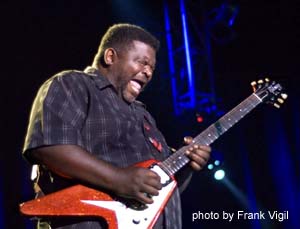 Blues guitarist Michael Burks earned his "Iron Man" moniker honestly, through non-stop touring and exhaustive shows featuring fiercely intense guitar licks. But there's a deeper meaning to his nickname. After putting his guitar down for 11 years to support his family, he picked it up again and faced down a dwindling music industry, small-town fears, and a bleak blues scene, with nothing but his iron will and searing talent for support.
Appearing: Friday, April 15th at Buddy Guy's Legends in Chicago.
"You got knuckleheads like me who won't give up," Burks says in regards to his mid-life blues career. "I had to take care of my family and music wasn't working out. I was away from my music a long time"
You'd never know it from listening to his 2001 re-emergence,, Make It Rain (Alligator). Boasting smooth fretwork and gritty vocals, the album grabbed national attention and placed him firmly in rising-star status. Although Burks had stepped away from playing for more than a decade, he still claimed a family music legacy as well as almost 20 years as a performer, and no amount of time can wipe away that.
"I started playing guitar at an early age," he says. "My old man was the first guy to organize a band in my hometown of Camden, Arkansas. He was the only one with a real instrument [a bass]; he had to teach them all to play." It was also in the small town of Camden, population 12,000, that his grandfather started playing acoustic blues in local juke joints. The blues flows through Burks' blood.
After picking up the guitar at age 2, young Burks soon progressed to performing at nightclubs at 6. "At 12-years old, I did a three-month tour with T Bone Walker. I played behind him at the Watts Summer Festival in 1972," he says.
In the '70s, Burks and his family helped their father build a music club where Burks led the house band every weekend. The club remained popular for years, and so did Burks. He also played in his own band and backed visiting blues greats from O.V. Wright to Johnnie Taylor. And then the bottom dropped out.
"When disco became popular, everybody stopped hiring bands, they just used DJs," Burks recalls. "Everybody was disco crazy. That put a lot of bands out of business, especially mine." By the mid '80s, the family club closed and Burks pushed his guitar under his bed, choosing to work full-time as a mechanical technician rather than risk the financial insecurity of the music business any longer. Little did he know, he'd never be able to totally let the blues go.
"My boss was a blues fan and he'd always ask me why I was at that job and not playing my music," says Burks. Eventually in 1994, a friend from Austin coaxed him into excavating his axe from its bedroom tomb. They started jamming together, then started gigging at small bars. "I let them talk me into going to Little Rock for the International Blues Challenge, and we won. I thought those people were out of their minds. I hadn't played in 11 years – talk about rusty!" But Burks continued with the challenge to Memphis where his band placed third and he won the Albert King award for best blues guitar. "All these clubs wanted to book us," he says. "They wanted me to come play at festivals. I told them I didn't travel. Then I heard how much they wanted to pay me, and I changed my mind. We played the Spring In The Blues Festival in Jacksonville, Florida, and we got club gigs while we were down there at the festival. I made more money in one weekend than I made in two weeks at my full-time job."
By 1996, Burks had arrived at a point where he was taking off from work every Thursday, Friday, Saturday, and sometimes Mondays, to play gigs. "I got to the point where I had to make a choice," he says. "It was either work the job or play music for a living." It took him six months to reach a decision, but his self-produced CD, 1997's The Inside Out, made the choice clear. With fans clamoring for the 500 copies he made with his tax return and critics raving, Burks realized that he couldn't ignore his music legacy. His current outing, Iron Man (Alligator), demonstrates exactly why.
The album's 12 tracks, seven written by Burks, reveal explosive playing and commanding vocals. From the hard-times anthem, "Hard Come, Easy Go," which pumps with palpable frustration accented with fiery licks, to the aching heartbreak of "Ice Pick Through My Heart," Burks has covered all the bases.
"I always believed this was what I was supposed to do," he says. "I just had to make up my mind. It's a job – just being on the road is hard, but I'm lovin' it. I hope my listeners find understanding about the blues and relate to what I write. Blues is about your experience in life, up or down, good or bad."
Sweet Home caught up with "Gulf Coast Blues" guitarist Hamilton Loomis while he was in town playing at Rosa's. Raised on a steady diet of blues, soul, and funk, and mentored by Bo Diddley, Loomis plays a distinctive blend of blues-influenced music. "Nothing I do is traditional blues. My philosophy is to reach the younger generation," he says. "My stuff is funky and rootsy. As a white boy from the burbs [Galveston, Texas], why am I going to try to replicate traditional blues? The foundation of what I play is the blues, but my guys behind me are playing a Gulf Coast stew. It's a nod to rock, blues, soul, and funk. The blues is in there, but it's disguised with a funkiness that will appeal to more people." It's a philosophy that we've heard more than a few times. Must the blues be disguised to reach wider appeal? We think that the essence of pure blues is powerful enough to stand on its own, but then again, we don't run record companies.
— Rosalind Cummings-Yeates
Category: Columns, Monthly, Sweet Home