Pinetop's Final Sessions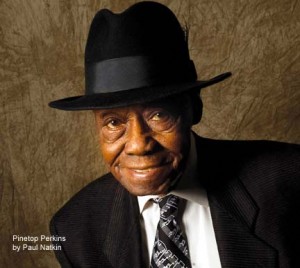 Pinetop Perkins' final recording sessions for his Grammy-winning album, Joined At The Hip, took place in Chicago at JoyRide Studio by Blaise Barton and mixed at Tone Zone Recording by Michael Freeman. Last fall, Freeman commented on those recording sessions in an interview with Grammy365.com. "I worked on a new record for Pinetop Perkins and Willie "Big Eyes" Smith, both Muddy Waters Band alumni. Pinetop will be 97 this July and Willie is well into his 70s and, together with their touring band, I just marveled at how vital they all were on session. Great recordings to me are all performance oriented. You just cannot contrive a truly great, human feel or a groove with anything electronic. It's all about the players and their ability to lock into a pocket that just screams, 'Listen to me or dance with me or whatever you'd like to do, but you can't put me down"
Perkins moved to Chicago in 1958, and after an extended sabbatical from the music business, he joined Muddy Waters' band in 1968 on piano. He began his solo career in the late '70s until his death last month.
Joined At The Hip, just released last year on Telarc, won the Grammy for Best Blues Live Performance in February.
Studebaker John was at Studio VMR in Brookfield working on his new CD with Don Griffin engineering . . . Senay Jones was in cutting some vocals and Rev. Smith was at VMR for some mastering.
Tim Larson & The Owner/Operators are releasing their new record, A New Deal. A former member of the acclaimed Irish band The Drovers, Larson draws from influences as diverse as John Lee Hooker, Waylon Jennings, Nick Cave, and Siouxsie & The Banshees, combining the layered sonics of shoegaze with warm acoustic instruments to frame songs about the down and out, accompanied by the Owner/Operators.
The band settled in last year at the Belmont Distillery in Chicago to record basic tracks before moving to BobDog Studios in Oak Park for rhythm tracks, mixing, and mastering. Larson produced, layering a plethora of tracks incorporating guitars, mandolins, slide guitar, and lap steel to create a sound that is two-dimensional: at low volume the sound is Americana in spirit
– crank it up, and the wall of sound kicks into gear and transforms it into a shoegaze affair. Larson explains, "We tried to make the record bigger sounding without using a lot of effects."
The record-release parties are April 8th at Maria's Pack-aged Goods in Bridgeport, and the 15th at Beat Kitchen.
Local metal act Kastasyde has posted a brand new track, entitled "Release," for streaming. It was recorded and mixed in December 2010 with noted producer/engineer Sanford Parker (Nachtmystium, Minsk). The track will appear on the group's third album, which is scheduled for a late 2011 release.
Drummer Terry Keating (Satya Graha, Occasional Stray, Simian Hit Patrol) has been finishing the mixing of his solo debut at Carterco Recording in Chicago. Keating self-produced while Jaime Carter engineered.
Hey Studiophiler: To get your studio or band listed in "Studiophile," just email info on who you're recording or who's recording you to ed [at] illinoisentertainer.com, subject Studiophile, or fax (773) 751-5051. We reserve the right to edit or omit submissions for space. Deadline for May 2011 Issue is April 15th.
Category: Columns, Monthly, Studiophile