The Venue at Horseshoe Casino, Hammond, IN
Friday, March 18, 2011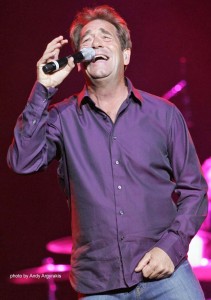 For the first time in nine years, Huey Lewis & The News released a new studio CD, so it's no wonder why they decided to play the majority of it before dusting off their '80s oldies. Though that decision might look self-indulgent on the surface, the fact that Soulsville pays exclusive tribute to Stax Records made the gesture forgivable and actually enjoyable, considering some of the songs were already familiar and those that weren't scored a much deserved second chance.
Similar to the troupe's '60s R&B tribute disc, Four Chords & Several Years Ago, the latest finds Lewis' blue-eyed soul vocals over his backers' horn-heavy blasts, which sounded even richer in the live setting while feeding off a sold-out Venue (where the group has become an annual mainstay). After teasing with their own "The Heart Of Rock & Roll," the band dug back to that genre's actual origins, growling through Wilson Pickett's "Don't Fight It" with muscle and authenticity.
Additional first-half highlights included "Respect Yourself," a hat tip toward Chicago's very own The Staple Singers carried by two mighty background singers, along with "Soulsville," which had no trouble conjuring Isaac Hayes' ghost. Other lost gems included the strutting "Little Sally Walker," first recorded by Rufus Thomas, plus Joe Tex's laid-back doo-wop memory, "I Want To (Do Everything For You)." The most charming portion of the Soulsville set came from the all-but-forgotten William Bell track "Never Like This Before," which served as an upbeat soulful segue to comparatively newer tunes.
As for the obligatory chart-toppers, Lewis & The News partied through "Heart And Soul," "I Want A New Drug," "The Power Of Love," and "Hip To Be Square," while offering up their signature harmonies around the sweet nostalgia of "If This Is It." The group also gave "Do You Believe In Love" a relaxed rearrangement, while turning "Workin' For A Livin'" into a harmonica-saturated barnburner.
Yet it was sad to see the band go after just eight originals, leaving myriad essentials off the set list ("Doing It All For My Baby," "Stuck With You," "Jacob's Ladder," "Perfect World," "Back In Time," and a handful more), which shortchanged their 30-plus year history. While Lewis should be applauded for giving the legendary Stax family an unexpected lift, it could've easily been balanced with more personally penned hits to paint a fuller portrait of the energetically enduring act.
Opener and Indiana native Josh Holmes also shared a soulful approach throughout his guy-with-a-guitar stylings, but the 20-something could've been kin to more recent notables like John Mayer or Rusted Root. He demonstrated ultra-smooth vocals over the sunny and stylish original "Come Dance With Me," alongside nimble fretwork during an ambitious cover of the Charlie Daniels Band's "The Devil Went Down To Georgia," which brought the evening's remakes theme full circle.
— Andy Argyrakis
Category: Featured, Live Reviews, Weekly