The Dis-Quiet Man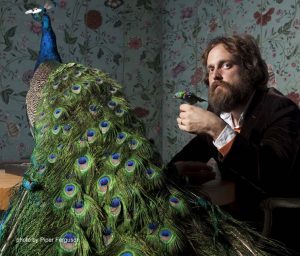 Two days on, news of Arcade Fire's shock win at the Grammys hadn't reached Sam Beam in Amsterdam. "Wow," he says, clearly surprised. "That's great." Will this be a game-changer for him? Is now the time for indie rockers to sell out en masse?
"Now is the time to sell out," he laughs. "I'd love to sell out, man . . . if anybody's interested in buying."
Appearing: March 4th at Riviera Theatre in Chicago.
Beam, who records under the name Iron & Wine, is one of a broad class of musicians – including Arcade Fire, Spoon, Death Cab For Cutie, Animal Collective, and others – whose popularity dwarfs that of their indie-rock predecessors. Whether the Internet made its music more available to a wider audience or the time just happened to be plain ol' right, this generation has managed something that even the arena-crushing likes of Nirvana and Pearl Jam in its lineage couldn't 20 years ago.
But in Beam's mind, the attention is almost accidental if not downright unwarranted. Iron & Wine's first albums were performed with a whisper, and on rudimentary equipment. Now he travels the land with assorted members of Chicago's post-rock A-list in his backing band, sonic deconstructionists from Califone and Isotope 217.
"To be honest," he says, "I never expected the first records to be as popular as they were. So, if you don't understand how the lightning got in the bottle, you don't even bother trying to put it back in. I also went to an art school for college, and you quickly learn what criticism is worth – good or bad. Good is not helpful in putting the pen to paper either, because you might get a big head and not try very hard. You figure out that the work is about the work, and whatever it takes to stay in the creative process is what you do."
A native South Carolinan, he's bucked the trend of careerist singer/songwriters by continually messing with what are considered sacred works by his oldest fans. The more he toured, the more fragile folk fables like "Naked As We Came" and "Cinder And Smoke" collected noisy elements and dancehall beats. The Woman King (Sub Pop) EP in 2005 made this direction official, while 2008's The Shepherd's Dog showed what Beam could do with a full canvas. Now, with his major-label debut, Kiss Each Other Clean (Warner Bros.), he's cleaned up his studio approach as well to give a fully modernized version of the songs he's always had in his head.
He doesn't start with a plan, he says. "I start a new adventure, I don't have any idea where it's going. But I did go in [the studio] with the majority of the touring band I was using before: Matt Lux [Isotope 217], Benny Massarella from Califone, and Chad Taylor from Chicago Underground Duo. So that gives it a certain color and got the ball rolling with the four of us. I would take the songs home and start overdubbing and bring them back. I used to be more about translating an idea going on in my head to tape. Now it's more about, 'Get in there and start making tracks to see where you are while you're working.'"
The difference can be felt right away. Opener "Walking Far From Home" bursts with Beam's voice right on top of the microphone while autotrack-like reverberations hum in the foreground, until everything drops to reveal Beach Boys harmonies and a lullaby melody. A third movement adds layers until the primary melody wraps around and begins to constrict the finished article. Its successor, "Me And Lazarus," draws clearly from Chicago post-rock, with elastic bass, junkyard percussion, and accentuated brass. "Big Burned Hand" lays down a rather frank funk beat with skronking saxes nudging it along. It's almost Bowie-esque in its contours, while Beam's voice continues to quest out of its hushed cocoon.
"The horn stuff really helped bring a lot of cohesion for me," he says. "I started to be able to recognize what was working in tunes and what was not. I've got in mind a flow, but I don't let it rule the thing. I'm not going to exclude something I want to try if I feel like it's not going to fit into the plan. First we try it to see if it works. But yeah, there definitely are songs that I left off the record that I thought would have taken the record somewhere I didn't feel it should go – stuff I thought should live as singles and not a collection of songs."
— Steve Forstneger
For the full interview, grab the March edition of Illinois Entertainer, available free throughout Chicagoland.