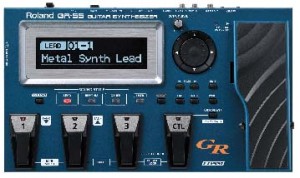 Since its birth in the mid-'70s, the guitar synthesizer has taken the long road to respectability. Brave, early adapters were troubled by technical glitches and Moog-like novelty tones, more aligned to experimental music than mainstream sounds.
In the last 10 years, Roland has been the leader in breaking barriers to make the guitar synth a more natural-sounding instrument. The GR-55 delivers exceptional tracking performance, aligning guitar tone and synth tone simultaneously while being powered by two independent synthesizer sound engines loaded with more than 900 of Roland's onboard sounds, including pianos, organs, strings, vintage and modern synths, percussion, and many more. The GR-55 allows players to combine all three sound engines plus their guitar's normal input to create any sound from the familiar to novelty tones.
Two independent multi-effects processors are available for hundreds of tone-adjustable options, plus reverb, chorus, delay effects, and EQ to add final tweaking to any sound. The GR-55 puts guitarists instantly in touch with a huge library of sounds, with no editing required. The onboard lineup of ready-to-use presets, from pop/rock and dozens of other genres, makes picking sounds easier. Creating and editing sounds is a simple process as well, with a large LCD display on the pedal board, user-friendly front panel, and intuitive editing features. Also onboard is a phrase looper that lets users capture on-the-fly recordings with unlimited sound-on-sound overdubs. The GR-55 is equipped with a 13-pin GK interface, and includes a Roland GK-3 divide pickup. The GK-3 can be easily installed on most steel-string guitars with no modification to the instrument. In addition, dozens of GK-ready instruments are commercially available from various top guitar manufacturers including Fender and Taylor. The GR-55 carries a suggested price of $979, or $1,199 with a GK-3 Divided Pickup included. Visit www.rolandus.com for details.
Danche Ivanovic
Custom Danche Guitars
From his storefront guitar shop in Oak Park, Danche Ivanovic builds and repairs guitars as a labor of love. Born in Belgrade, Yugoslavia, he spent 20 years as an acclaimed musician who was also learning the craft repairing and building guitars, violins, and other stringed instruments in Munich, Germany, under the tutelage of master luthier Tomas Keller. By 1993, he emigrated to the U.S., continuing his career with the restoration of violins. Disassembling and restoring old archtop guitars, violins, and violas taught Ivanovic additional instrument-building secrets. "Archtop tradition, and violin making tradition is important to Danche's distinctive approach to his art," according to his biography. His guitars are often used on recordings and concerts by Evanstonian and Blue Note recording artist Fareed Haque and Proteus recording artist Goran Ivanovic.
Since 2008, Danche has set up shop in Oak Park repairing instruments for the locals. He also specializes in Archtop guitars for those looking for a lovingly assembled custom guitar made from 20-year-old tonewoods for onstage use or for their collection; Danche and his wife Miki also offer guitar-building classes and guitar lessons from the Madison St. location. For more info visit www.dancheguitars.com, or call (708) 386-6666.
EVH Guitars
Wolfgang Stealth Guitar
Despite Sammy Hagar's new book that portrays him as a Howard Hughes-like figure, Edward Van Halen and EVH Guitars are carrying on and proudly introduce the Wolfgang Stealth. It's a distinctive variation on the hugely successful model on which it's based: the U.S.-made EVH Wolfgang guitar designed by Van Halen during the Peavey years. The Stealth is Van Halen's first-ever guitar with an ebony fingerboard. For details, visit www.evhgear.com.
— David Gedge