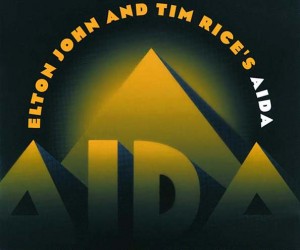 Long before Egypt was experiencing Facebook revolutions, it was the mysterious and conquering land of pharaohs, sphinx, and pyramids. And the setting for one of Giuseppe Verdi's most famous and popular operas, 1871's "Aida," which includes many famous arias, including the heavenly "Celeste Aida."
In 2000, Verdi's timeless tale of forbidden love between an Egyptian princess, an enslaved Nubian princess, and an Egyptian army captain was rebooted for the Broadway stage with the backing bucks of Disney and the talents of a couple of musical knights – Sir Elton John and noted lyricist, Sir Tim Rice. And now, running through May 29th, The Drury Lane Theatre in Oak Brook Terrace is presenting this multiple Tony Award-winning show in a revival production that impresses in its technical and visual offerings, but ultimately fails to rattle the soul and touch the heart.
In the late '90s, Disney was anxious to re-team John and Rice after their writing partnership triggered the phenomenal success 1994's Oscar-winning animated film The Lion King and its innovative 1997 stage musical version – a deliciously creative lion's tale directed by Julie Taymor that won accolades around the world and won multiple Tonys.
"Aida" the musical didn't enjoy a similarly enchanted road to success. Originally titled "Elaborate Lives: The Legend Of Aida," it experienced a disastrous initial preview run in Atlanta, and the production's original creative team soon was replaced in 1999 by Chicago theater master and maestro Robert Falls, artistic director of The Goodman Theater. During its ensuing preview run in Chicago, Falls tightened up the musical's wandering storyline, did away with the original production's continually malfunctioning hydraulic pyramid, and re-staged and moved several of the show's songs into new places, heightening the show's drama and emotion of its love-triangle centerpiece. The show opened on Broadway in 2000 with the new title, "Elton John & Tim Rice's Aida," to critical praise, eventually winning four Tonys, including Best Musical Score for John and Rice.
Despite its ancient and operatic origins, this new retelling of "Aida" is an overtly contemporary show. The music, the instrumentation, the choreography, the costuming, and the dialogue are all very "now." And for all its inherent heavy drama, there is a giddy sense of frivolity and camp, perhaps inspired by John's involvement. These battling themes, though, give the show a difficult duality that Falls delicately balanced in his production, due mostly to the acting strength of his talented cast, which included eventual Tony winner for her performance as Aida, Heather Headley, Sherie Rene Scott, and original "Rent" star Adam Pascal.
And it's in managing this duality where the Drury Lane production falters. Though director Jim Corti deftly recreates Falls' original staging, and presents a taut show that tries hard to impress, the show can't overcome its overall lack of passion. And passion is the crucial ingredient when you're offering what's billed as "the timeless love story."
The complex love triangle is the prime driver, and yet here, right from the start, the main characters don't engage us, the sparks between them don't flash or excite us, and ultimately we don't feel their conflicted allegiances, motives, and love that will dictate their destinies.
The three main performers — Stephanie Umoh (Aida), Erin Mosher (Princess Amneris), and Jared Zirilli (Radames), who all posses strong, impressive singing voices — never fully inhabit their characters nor convey their inner struggles that are pivotal to making the show soar. Yes, every musical musical needs strong singers, but in a show like this, which relies on character development as well as the music, their ability to create characters and make choices we care about is just as important as the bellowing sound and strength of their voices. The only moment of genuine risk, danger, consequence is offered by Bruce A. Young as the captured Nubian king. His presence and commitment makes his sole scene invigorating and memorable, and reveals how emotionallydenied the show has been until this late point in Act Two.
The opportunities to captivate are there. The story is driven by John's powerful and playful music and Rice's clever wordplay and expressive storytelling. It's the most "Elton John sounding" of all his stage work, filled with several dramatic Elton John ballads like "Elaborate Lives," "Enchantment Passing Through," "Not Me," "I Know The Truth," and "Written In The Stars." But in each case, all three are merely singing words, not conveying emotions.
Amneris is key to the show's power, and we should observe how this once self-absorbed, ditzy diva slowly transforms into a strong, compassionate leader. But Mosher never captures Amneris' oblivious, sassy narcissism, which aims to provide the early part of the show with some humor. Amneris' final transformation, during the confessional "I Know The Truth" is the story's apex, but here, it falls flat because Mosher never firmly establishes Amneris' former persona at the outset.
For instance, "My Strongest Suit," a fun and frothy piece of pure stage pop, should be a rousing, crowd-pleasing showstopper that immediately endears Amneris. But Mosher's shakes and shimmies seem more forced and rehearsed than sultry and sexy, relying more on her costume than her charisma to sell it and draw the cheers and catcalls. It's a missed opportunity that stalls Act One, which is thankfully redeemed (albeit too late) at the end by Donica Lynn's wrenching pleas and pathos during "The Gods Love Nubia."
Similarly, the supposedly consuming love between Aida and Radames never materializes. Songs like "Elaborate Lives" and "Written In The Stars" should create and encapsulate the love they will sacrifice their lives for, but Umoh and Zirilli never make it feel more than a summer fling. And this deflates the fatal climax and leaves the audience with wisps of what should have been – having their hearts tugged, broken, and touched.
Without being enveloped emotionally, this "Aida" becomes nothing more than a fable about a failed, fatal pyramid scheme with a love story as dry as sand.
– James Turano
Category: Featured, Live Reviews, Weekly