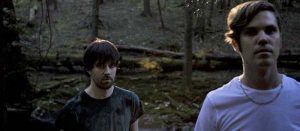 We have two tickets to the sold-out show on Sunday the 20th at Metro. All you have to do is correctly answer a question to enter!
The Forms, who handle opening duties for Dismemberment Plan, will release the Derealization EP on the 15th, which features such guests as The National's Matt Beringer and Shudder To Think's Craig Werden. The trio's previous release, Icarus, has what connection to Chicago?
E-mail your answers by 6 p.m. CST on Thursday, February 17th, to ed [at] illinoisentertainer.com. The winner will be notified Friday morning. Losers can see The Forms play a free show on the 21st at Empty Bottle.
— Steve Forstneger
Category: Contests & Giveaways, Featured, Weekly