Revin' It Up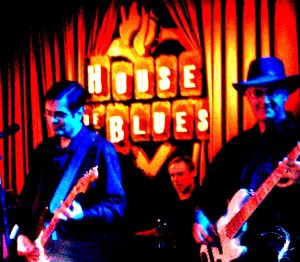 Rich Reminger and the Windy City Rev Ups have finished mastering four releases at Cave Audio Productions in Lombard.
Disc one was recorded live at now closed Hanson Brothers Tavern in Northbrook. The night featured most of the band's popular tunes including the title track from their CD Red White And Blue and their soulful cover of Blind Faith's "Can't Find My Way Home" played on acoustic instruments with the following musicians: Rich Rev (guitar, vocal, harp), George Lemperis (lead guitar), Zoey Szmulewitz (guesting from the Old Town School Of Folk Musicon guitar), Gordan Patriarca (guesting from the School Of Rock on bass).
The second record, titled The Lakehouse Studio Session, will produce volumes three, a bootleg, and a separate retail CD. According to Reminger, the recordings are "very rock, very high energy, includes some real cover jems like 'Freeway Jam' and 'Soul Sacrifice,' plus new orginals, lost tracks, recorded on vintage Marshall and Fender amps, honkin harp, growlin' – it will close out the series."
The most recent project is still in progress, recording at Elmhurst College's Gretsch Studio, where Reminger described the sessions as "very R&B, minimal tracks, with sax and flute: trippy. I'm doing more vocal tracks in February. " If that's not enough, the band will release a "best of all three" available on iTunes and CD. Called Windy City Rev Ups Essentials, it features songs from the two studio sessions, with a few bonus tracks of the the Hanson and Lakehouse setups. Reminger says, "They are all very, very different, which I think makes it a full-circle representation of the band's versatility, an alternative approach to R&B, gutsy with our raw energy on display."
At MILLION YEN in Chicago. The Magnificent from Leeds, England, tracked with producer/engineer Jeff Dean . . . The Jagz worked on an EP . . . Post-wavers I Lost Control also finished an EP . . . Pop combo Open To Suggestion recorded a demo.
Singer/songwriter Jenny Franck has returned to the studio to record a new acoustic project. The six-track EP will feature new music by the Malta-based indie acoustic rocker along with her unique cover of Nirvana's "Heart-Shaped Box." The project is being recorded at BackThird Audio in Aurora with Kyle Schmidt as the audio engineer. Final mixing/mastering will be done by Jaben Pennell of Rockford's Vibehouse Studios. Project producer Louis Vasseur says, "The project is intended to show off Jenny's growth as a singer/ songwriter while paying homage to her grunge roots." To help prepare for this project, Franck played several acoustic shows at the Elbo Room's upstairs lounge. "The shows at the Elbo Room really helped me focus on this music and the audience reaction to it," she says. "I'm truly grateful for all the support the Elbo Room staff gave me as I was working through these songs. The EP will be so much better because of those shows." Jenny Franck Unplugged is scheduled to be released in early spring on the Dancing Pony Productions imprint. Franck is scheduled to tour the Midwest later this year.
Blane Fonda dropped us a note to let IE know that the local indie poppers are back in the studio with tracks engineered and produced by Matt Opal, while they record at Soma Studios and Gravity Studios in Chicago.
Hey Studiophiler: To get your studio or band listed in "Studiophile," just email info on who you're recording or who's recording you to ed [at] illinoisentertainer.com, subject Studiophile, or fax (773) 751-5051. We reserve the right to edit or omit submissions for space. Deadline for March 2011 Studio Issue is February 11th.
Category: Columns, Monthly, Studiophile