ilentertainer | Feb 14, 2011 | Comments 1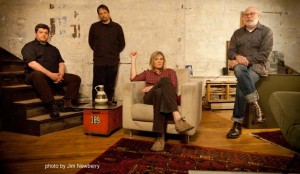 Rick Rizzo and Janet Bean of underheralded Chicago rock staples Eleventh Dream Day (IE's Patrick Conlan calls them our Yo La Tengo) have a son with an extremely uncommon condition. In reference to the upcoming Rare Disease Day, they ask you to consider the following.
"Most everyone receiving this knows our wonderful son Matt, and if you don't you'll just have to believe me on his wonderfulness! Besides having a great personality, he also has a rare genetic mutation referred to as Glut1 DS. In 1993 Matt was the 8th person in the world diagnosed with this condition. Since then hundreds more have been diagnosed, yet the research for a cure is grossly underfunded. The challenging effects of this condition are many and the only treatment to date, the ketogenic diet, falls very short of a comprehensive treatment.
Being the parents to the eighth child in the world diagnosed with Glut1 DS meant, at that time, a dearth of information on the subject and virtually no support groups. Thankfully that is changing with the hard work and commitment shown by many of the parents of children with Glut1 DS. It is that hard work that has created the organization Milestones For Children. The organization's focus is fund raising to further research towards a cure and to make aware parents, and those in the medical field, the existence of this rarely diagnosed condition. This month, to coincide with Rare Disease Day 2011, Milestones for Children, through their website Milestonesforchildren.org, has set up a challenge to all those out there to donate $21 within the next 21 days- just a dollar a day! [Update: the 21 days ends March 3rd; IE's a little tardy.] This is a cause obviously very close to me, my son Matthew, and all those out there dealing with Glut1 DS. Your support means the world to us. If it is not possible to make a donation at this time, please visit the Web site and learn more about this condition. Diagnosing Glut1 DS as early as possible means a world of difference. Thank you. — Janet Bean"
About the Author:
Comments (1)