ilentertainer | Feb 17, 2011 | Comments 1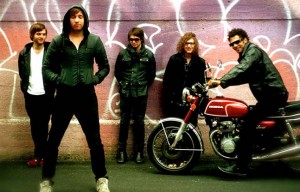 Chicago-based Empires are one of 16 unsigned bands vying to land on the cover of Rolling Stone in the coming months. Voting for the first round ends March 2nd.
You can view their voting page here; the magazine has a system where acts are rated via a star system. Empires have an album and, most recently, an EP under their belts, they skirt the darker edges of pop punk (always wearing leather jackets) with a flair for the theatric whether it's over-the-top instrumental passages, a rampaging drummer, or the vocal histrionics of frontman Sean Van Vleet.
— Steve Forstneger
About the Author:
Comments (1)