Allstate Arena, Rosemont
Friday, December 3, 2010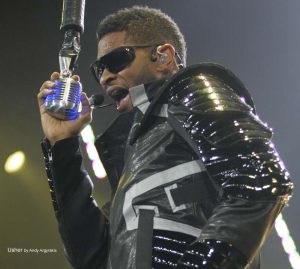 While Usher could've very easily ended up in the early-'00s R&B bargain bin, his career found an unexpected resurgence thanks to a pair of hot new projects (Raymond v. Raymond and follow-up EP Versus), plus an arena show that had no trouble selling out the Allstate Arena. But just because he's on fire once again, sensually straddling the lines of soul and hip-hop, doesn't mean the 32-year-old singer has ironed out the kinks yet.
For starters, his colossal entrance included descending from the venue's ceiling on a plank that was visible mostly to those on the bowl and balcony levels, forcing those on the floor to look up at silver piping with minimal traces of the show's star (sans the big screen). Though he did make some clever mid-air dance moves while hanging from bungee chords after landing on the main stage, he came off like a Michael Jackson wannabe, strategically removing his sunglasses, looking dramatically from side to side, and then tossing his jacket to a security guard down front.
Instead of making statements or mimicking others, Usher was better suited doing what he does best, which included complicated choreography during club shout outs like "Yeah!" and grooving to bedroom ballads like "You Make Me Wanna" and "Trading Places" (complete with a scantily clad audience participant). Granted, his gestures were a bit showboaty and over sexualized, but none of the screaming women seemed to mind come the bump and grinder "Love In This Club."
The set reached an apex as Usher dusted off a slew of his mid-career Confessions cuts ("Burn," "My Boo," "Caught Up"), followed by an encore of his two current smashes, "DJ Got Us Fallin' In Love" and "OMG." In connecting the dots between the past and present, Usher bridged two generations of fans, which was perhaps his most remarkable accomplishment.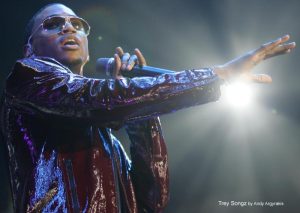 Trey Songz must keep a tour diary on how Usher seduces the ladies, because he got them ready and sweaty with a similar formula of posing, gyrating, and burlesque. At one point, the six-pack sporting singer stripped off his tanktop, rubbed it all over his torso, and had a female fan bite it out of his hand, which was downright ridiculous considering how talented the relative newcomer is outside the antics.
Songz had no trouble commanding the stage like a veteran of his tourmate's level, despite only globetrotting for the last five years. The steamy "I Invented Sex" oozed with swagger and a neo-soul swing beefed up by his backing band, while "I Need A Girl" revved up with a series of wide-ranged vocal runs.
Tunes off his new disc, Passion, Pain & Pleasure (Atlantic), like "Love Faces" found the 26-year-old picking up where retro romantic balladeers like Brian McKnight or Johnny Gill left off, but with unflinching confidence. By the time Songz got to the rap-infused club thurster "Bottoms Up," he had the crowd eating out of his hand (quite literally) and positioned himself as more than merely Usher protégé, but someone who could soon follow in those headlining footsteps.
– Andy Argyrakis
Category: Featured, Live Reviews, Weekly