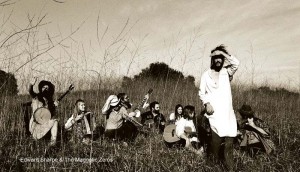 When Mike Raspatello was thinking about what was missing in Chicago's crowded music-festival calendar, he immediately considered the lack of roots music. "There was nothing offered in the winter months at all," he adds. "The roots genre was relegated to the summer months." To remedy the situation, Raspatello created the Chicago Bluegrass And Blues Festival in 2007. The three-day party presents acts that play some derivative of the two genres, in either traditional or contemporary form. This year's event, December 3rd to 5th, features a diverse lineup including funk/blues rock group Grace Potter & The Nocturnals, Delta blues legend David "Honeyboy" Edwards, alt-country group Edward Sharpe & The Magnetic Zeros, and roots reggae notables The Skatalites.
It might appear to be a rather scattered offering to the unfamiliar ear, but Raspatello is aiming at a broad mix of music fans to introduce them to less mainstream genres. "Blues and bluegrass is the root of everything we have in concert," he says. "We feature traditional blues and bluegrass and then go a few branches down the family tree. If you stick to traditional, there's not as many fans as when you get into more derivative genres. People in their early 20s go to the most concerts. But they were missing out because they wouldn't spend $45 to see traditional blues like Honeyboy. With this fest, when they come to hear Edward Sharpe perform 'Home,' they'll also get to hear more traditional forms."
Raspatello grew up as "a music dork" who liked to study music. "I'm into everything. I read every word, in chronological order, of 1,000 Recordings To Hear Before You Die," he says, referring to one of several attempts at a comprehensive, worldwide list. He also grew up as a traditional blues fan, sneaking into the Chicago Blues Fest as a kid. "Buddy Guy was the first blues musician I remember listening to. Then my dad taught me about Corky Siegel and I discovered Stevie Ray Vaughan. Couldn't Stand The Weather and The Siegel-Schwall Reunion Concert were my first blues albums."
He has also attended a lot of big musical gatherings over the years, from Telluride Blues Festival to the Hardly Strictly Bluegrass Festival in San Francisco, and he's determined to bring some of that communal, outdoor spirit to the CBGB. "It will be as close to the summer-fest vibe as you will get in December, in Chicago," he says. "It's three days but the middle day [at Congress Theatre] has the real fest atmosphere. We'll fill the place with vendors and bands. Friday's show [Double Door] is the warmup and Sunday's [Lincoln Hall] is the cooldown."
Go to cbbfestival.com for the complete schedule.
SLEDGE-O-MATIC: Rory Gallagher may not be a familiar name to the average blues fan, but he deserves a place among the most evocative of its guitarists and the recent release of the DVD set Ghost Blues: The Story Of Rory Gallagher/The Beat Club Sessions (Eagle Video) showcases the depth of his legendary skill. Although Gallagher died in 1995 and is more famous in his native Ireland than the U.S., his influence continues to touch rock guitarists and blues fans alike.
The 150-minute package provides an engaging narrative of Gallagher's life as well as an interesting overview of Irish rock history. Born in Cork at a time when the Emerald Isle struggled with economic depression, young Gallagher decided he wanted to become a musician at 8-years old. His first instrument was a dime-store ukulele, followed by a secondhand, acoustic guitar. By the late '60s, Gallagher had formed a power trio, Taste, where his songwriting, singing, and guitar chops turned the band into a sensation.
Clips of Gallagher's playing from the time illustrate exactly why he captured so many fans. One highlight shows him with his signature long, dark hair fanning out over his face, belting out his interpretation of Muddy Water's "Garbage Man." His voice vibrates with anguish, his guitar licks blister with heartache. It's significant that Gallagher doesn't merely play a version of the classic blues tune but adds enough of his own phrasing that if you didn't know the song, you would swear it was Gallagher's original.
It's interesting to hear commentators note that while Americans "didn't respect their own music history" at the time, British and Irish musicians took to the blues and related it to the class system. The result was blues playing that was more authentically palpable than much of what came from American musicians who just seemed to play tribute and not really relate.
The Taste broke up in 1970 and Gallagher exploded as a guitar god, so much so that in 1972, Melody Maker magazine rated him as the best guitarist, just above Eric Clapton.
He was also courted by The Rolling Stones when Mick Taylor dropped out, but, as it was explained by everyone who knew him, Gallagher was a frontman only. He also could never be a music-industry lackey, famously refusing to record singles or manage his career in any way that promoted stardom over his simple focus of playing music. The interviews featured on the DVD are enlightening and read like a who's who of Irish rock, including Bob Geldof, Johnny Marr, and The Edge. Director and former music journalist Cameron Crowe also makes an appearance as does former Guns N' Roses guitarist Slash. Predictably, it's Geldolf who provides the most insightful quips. In describing Gallagher, who died from liver disease at 47, he says, "He could have been in a seminary, except his chalice was his guitar and his prayers were the blues."
R.I.P.: Condolences to family and friends of Stan Davis, owner of the legendary South Side lounge Lee's Unleaded Blues. Davis passed away on November 12th from cardiac arrest.
— Rosalind Cummings-Yeates
Category: Columns, Featured, Monthly, Sweet Home