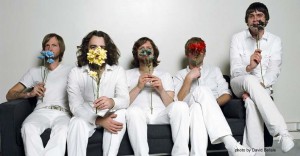 The plus/minus stat remains unique to hockey, an exploitable but generally accepted measurement of a skater's defensive worth.
It's an aggregate of the number of times a player is on the ice when his team scores either at even-strength or shorthanded, versus the amount his side concedes while at equal numbers or on the power play. For instance, Chicago's Brent Seabrook was rated -4 on Monday night because he was defensively irresponsible. On two occasions, his errors led directly to opposition goals, while on the pair he made mental errors. He's never been ursinely negative.
That would fall to Minus The Bear, one of those Seattle bands no one knows is from Seattle. (A class including Jimi Hendrix and Queensryche.) For nearly a decade, they've existed on indie rock's uncomfortable prog-rock fringe, a place even today's more adventurous Web radio programmers don't venture lest someone think they're playing Yes. Yet MTB trudge onward, collecting 6 and 7-rated album reviews from gunshy writers and acquiring fans who like to work out their fingers and track rhythmic meter while listening.
Granted, this year's Omni (Dangerbird) put both followers and newcomers off balance. The easy answer is because it's a pop album with bedroom eyes, but that doesn't do the musicianship justice. Based primarily on synths with clear '80s overtones (see "My Time"), it's a sometimes awkward marriage of classic-rock riffage and funk lite. "Dayglow Vista Rd." revisits early emo's stomp, "Into The Mirror" shoehorns a guitar workout in, and on more than one occasion the spector of So Peter Gabriel hovers. Minus The Bear have a catalog full of transitional efforts, though this is the kind of polarizing album that has supporters calling it "natural" while detractors lament it being too much, too soon. If only there were a stat for it. (Thursday@Vic with Tim Kasher and Rah Rah.)
Tonight marks the beginning of Andrew Bird's becoming-annual three-night church stint. Continuing through Friday night, the Gezelligheid Concerts will not be a showcase for the recently issued Useless Creatures (Fat Possum) but mostly instrumental violin pieces inspired by childhood experiences playing Handel's "Messiah." Useless Creatures originally came only with collectors' editions of 2009's Noble Beast and features Glenn Kotche and Todd Sickafoose. (Wednesday through Friday@Fourth Presbyterian Church with Jeff Parker.)
— Steve Forstneger
Category: Featured, Stage Buzz, Weekly