Third Coast Festival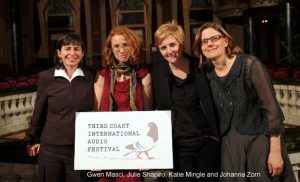 Johanna Zorn got the idea to start a showcase for documentary radio back in 2000, when she was producing the WBEZ-FM (91.5) series "Chicago Matters."
"The documentary work was so good, so meaningful," she explains. "It told great stories, and it reverberated and lasted a long time. You think of radio as being ephemeral. But this work had a great staying power. At the same time, the Sundance Film Festival was getting popular. And I thought, 'Why isn't there a Sundance for radio?'"
Soon, artistic director Julie Shapiro came on board, and the Third Coast International Audio Festival (TCF) was born.
"Our intention and mission is to build the field for both audiences and radio-makers," says Zorn, the TCF's director and founder. "Audiences know they can hear a fabulous, provocative documentary on just about any subject under the sun. Meanwhile, radio producers' work gets heard."
The TCF includes an online library of more than 800 eclectic radio stories, the weekly radio show "Re:Sound" (Saturdays at 1 p.m. and Sundays at 9 p.m. on WBEZ), Listening Room events, a Filmless Festival, a ShortDocs Challenge in which non-professionals are invited to make short pieces using a specific set of rules, and a school curriculum called Audio Documentary 101. There's also a conference held in conjunction with the annual Third Coast/Richard H. Driehaus Foundation Competition – the most recent of which was held in late October.
At this year's event, during an impromptu toast to Zorn and Shapiro and the festival's 10th anniversary, "This American Life" creator Ira Glass said that the TCF provided something that radio people like him, who work in isolation, didn't even know they needed: validation, and a place to meet and exchange ideas with other like-minded people.
"We just want you to know that the love spreads across the Atlantic," said one of the winners, Radio Netherlands producer Michele Ernsting – who noted that she would never have found her sound person if she hadn't attended a TCF conference.
Last year was a rough one for the TCF, after WBEZ dropped funding and they became an independent, nonprofit organization (Chicago Public Media still supports them by providing cheap rent and administrative assistance). "A huge administrative layer was added to the work we do – and a huge fundraising layer," says Zorn. But they pulled it off – without adding staff, and with the help of a lot of people who believe that radio is an artform.
At the awards ceremony, event co-host Jad Abumrad said that the offbeat science show he co-hosts, "Radio Lab," would not exist in its current form if not for the TCF.
"'Radiolab' would not sound or be anything like the current version of 'Radiolab' without [it]," he explained in an e-mail interview. "Early on . . . at the first or second conference . . . long before anyone other than my mother listened to the show . . . I was at 3C and heard a couple radio stories that just stopped me, made me think, 'Wait, is that allowed? Can I do that?' All it takes is a few of those collisions, and suddenly you give yourself permission to invent."
The two winning documentaries can be heard on "Re:Sound" December 4th and 5th. They'll also be archived at the Web site in December. More details at www.thirdcoastfestival.org.
ODDS N SODS:The best thing about WMAQ-TV's new digital 24/7 news and entertainment sub-channel Chicago Nonstop is the addition of "JBTV," Jerry Bryant's 25-year old music showcase. It airs Saturdays at 9 p.m. and midnight.  Find it on Channel 5.2, Comcast Cable channel 252, WOW! Cable channel 130, and RCN Cable channel 50. . . . Congratulations to former WBBM-FM (96.3) and WCKG-FM personality Karen Hand, who recently received the Hypnotist Of The Year award at the Mid-America Hypnosis Conference. After leaving radio, Hand opened a hypnosis center with former WLS-AM and WJMK-FM personality Catherine Johns. Helping people with weight loss, stress reduction, and whatnot isn't all that different from the work she did on "Private Lives," the popular sex-and-relationship call-in show she hosted with Dr. Kelly Johnson back at WCKG. . . We love Garry Meier's "In The Line Of Meier" video segments, which air Wednesdays and Friday on WGN-TV's 5 p.m. newscasts. He's also added a Sneed-like fake gossip column, "Snerd," at wgnradio.com, and continues to hold down afternoons on WGN-AM (720) . . . But we hate that the Chicago Tribune dumped Steve Dahl's excellent "Vice" column. "Apparently my $400-a-week was preventing them from exiting bankruptcy," Dahl Tweeted. You can read his blog and hear his podcasts – as well as classic Steve and Garry bits – at dahl.com . . . The Local Community Radio Act, which would create a slew of brand-new, low-power, community-based radio stations, has been kicking around the Senate for nearly a decade. While the House bill passed with a voice vote last December, Senators John Barrasso (R-Wyoming) and Tom Coburn (R-Oklahoma) moved to block the bill earlier this year – even though it has bipartisan support. For more info, go to www.freepress.net . . . The most recent e-mail going around warning about an end to funding of National Public Radio and PBS is not a hoax this time around, with both House and Senate Republicans calling for an end to government funding of public broadcasting. "The message is 'think like we think and talk like we talk or we will de-fund you,'" Representative David Obey (D-Wisconsin) told NPR. How can they not be fans of "Antiques Road Show" and "Austin City Limits"? Freepress.net has more on it, as well.
— Cara Jepsen