Fair Is Life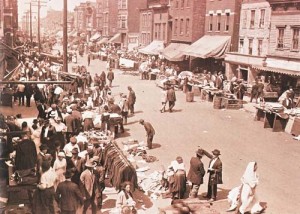 While the blues figures greatly into Cheat You Fair: The Story Of Maxwell Street, its own greatness wasn't enough to save the fabled Chicago marketplace. Last year's Phil Ranstrom-created/Joe Mantegna-narrated documentary just came to DVD, meticulously chronicling the West Side bazaar's post-fire buildup to transformation into Jewish enclave to post-war blues Eden, while framing it within city history. Maxwell Street's demise at the hands of gentrification and UIC expansion – the latter of which gets battered with indignities, one activist calling its tactics more sinister than the mafia's – is portrayed with the air of a Greek tragedy and the solemnity of a state funeral. The lack of Mayor Daley or University supporters makes the piece feel heavily one-sided, but it was probably difficult to find someone now that everyone knows what was lost.
How About Them, Apple?
"It's the holidays, Mason! What are we selling the kids this year?" "Uh, remastered 1962-1966 and 1967-1970?" "Not good enough! Dhani wants to tour!" "How about we put the catalog up on iTunes?" "What the hell is iTunes? We need something for the base!" Yes, it seems the bigger news is that Apple Corps. has finally let Apple Computer sell Beatles songs despite long-running legal disputes. Obscured in all this was the Corp's simultaneous reissue of 15 "classic" Apple Records albums. The label was the Fabs' utopian imprint designed to boost music by both friends and fetishes, gleaning from those you might know (Badfinger, Billy Preston), oddities (John Tavener, Radha Krsna Temple), and the James Taylor debut that sent him spiraling into drugs. The $250 set (or single-disc best-of) will probably intrigue few but core fans, though it's a remarkable window into a house that functioned artistically with no regard to what happened outside it.
Dirty War
Election season is over and all the winners can begin spending 90-percent of their time fundraising. While Messers Quinn, Brady, Kirk, and Giannoulias toasted bygones over beers, some of the nastier national races have lingering issues. Down in Kentucky, the battle for Campbell County Attorney culminated in one candidate's flier denouncing his opponent for defending various criminals in court. The attack – from someone supposedly familiar with copyright law – didn't use pictures of actual felons but lifted press shots of musicians from local metal outfit Disturbed as well as Avenged Sevenfold and Stone Sour to depict perverts and rapists. Each band quickly sent cease-and-desist orders, expressing outrage for such crude appropriations. The offending candidate, Democrat James Daley, lost the election and is currently in a finger-pointing dispute with the billet's creator.
Alligator: Later
"We're 29!" they'd write back when asked. "I'll twixt you later!" So, yeah, we knew Alligator Records wasn't on the cusp of 30 for the past 10 years, but, in the words of The Hold Steady, were shaky but still liked to shake it. Then it came out: 2011 = 40. True, 40 years of blues is only 40-percent of the genre's century and, some might argue, not the good 40 percent. Alligator begs to differ. Beginning February, it revels in its cougar status and drops not only an obligatory Alligator Records 40th Anniversary Collection, but a quartet of vinyl reissues including JJ Grey & Mofro, Buddy Guy & Junior Wells, Albert Collins with Robert Cray and Johnny Copeland, and Hound Dog Taylor & The Houserockers, the final of which was the label's first release. Before any of that happens, Alligator will snap to attention with two new options, Roomful Of Blues' Hook, Line & Sinker and Shemekia Copeland's Deluxe Edition, a best-of compendium.
— Steve Forstneger