The Killer Inside Me
IFC Films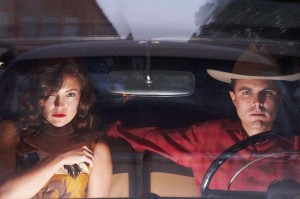 In the literary world of the '40s and '50s, there are writers of mystery and crime novels with standard whodunit plots that involve characters and situations to be neatly resolved at the end of act three.
Then there are the pulp writers. Pulp writers weren't hampered by large publishing houses that demanded stories suitable for mass consumption. Their works were released by small independent houses that gave them the freedom to be as messy as they wanted to be. Among the pulp writers, no name looms larger than Jim Thompson.
Thompson's works featured the whole gamut of unsavory characters: Cops on the take, two-timin' dames, and oftentimes just plain psychopaths. As is usually the case with most brilliant writers, Thompson never achieved the fortune and notoriety he should have when he was alive.
His works, however, have dotted the Hollywood landscape for years in such films as The Grifters, After Dark, My Sweet, two versions of The Getaway, and now the second go 'round for his most famous work, The Killer Inside Me.
Director Michael Winterbottom (24 Hour Party People, A Mighty Heart) takes Thompson's dark tale of Lou Ford (Casey Affleck), a small-town sheriff prone to bouts of violent masochism, and gives it deft touch – not to understated, yet not over the top.
As Ford, Affleck at first seems too young for the role, but he quickly dispels that fear as he delivers a performance that goes from hypnotically soft-spoken to explosions of brutal violence that are truly tough to watch.
Also on board are Jessica Alba, always easy on the eyes but seemingly marginal in talent. Yet here, she steps up her game in the challenging role of the prostitute who ignites Ford's inner demons. Even Kate Hudson takes a break from her demanding schedule of churning out dismal romantic comedies to remind folks that she can, in fact, be quite good.
The violence is indeed disturbing, making The Killer Inside Me miles away from an easy film to take, but unlike a lot of films, it isn't mere violence for violence's sake.
The Blu-Ray is light on extra features, with just bits on Affleck, Alba, and Hudson.
Ladies And Gentlemen, The Rolling Stones
Eagle Vision
After a very brief theatrical run in 1974, Ladies & Gentlemen, The Rolling Stones disappeared from public view. Despite an under-the-radar release on Australian VHS in the mid-'80s, the film gathered dust for three decades.
Surprising for two reasons: First, the Stones have never been shy about releasing live material to the film or video world, even when it should have been left on the shelf. Secondly, and most importantly, Ladies & Gentlemen ranks as one of their best efforts.
Filmed at four shows in Texas in 1972, L&G captures them at the height of their power. Touring in support of Exile On Main Street, the Stones' stage show finds them at their bluesiest, sweaty and grungiest best. These are the Stones that on any given night just might have been able to live up to their claim of being the Greatest Rock 'N' Roll Band In The World.
Sure, other live releases have been shot better, or had truer sound quality, but few have been able to retain the true intensity of their live sets when everything was clicking.
Features on the DVD include rehearsal footage and a present-day interview with Mick Jagger.
Also available . . . It's tough enough for a band to record one album that has lasting impact, let alone two. But love 'em or hate 'em, Rush managed to do just that. Eagle Vision's "Classic Album" series turns the camera northward to delve into the Canadian trio's recording process for the pseudo-rock opera 2112, and their mass-appeal breakthrough, Moving Pictures. All three band members take you through both albums song-by-song and, as is always the case with the "Classic Album" series, there's enough here to keep both studio geeks and laymen interested.
— Timothy Hiatt
Category: Columns, Digital Divide, Monthly