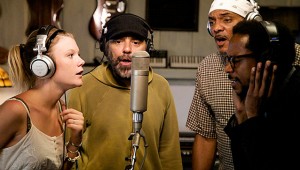 Take stripped-down organic pop, smoldering soulful vocals, and a decidedly Jamaican bent, all wrapped around the nucleus of multi-instrumentalist/super producer Daniel Lanois, and it's easy to see why Black Dub's self-titled debut is just as alluring as it is ingenious. Aside from its already familiar leader (who takes a break from straight-up solo work to primarily serve as the band's guitarist), the collective also includes noted session drummer Brian Blade (Wayne Shorter, Herbie Hancock), singer Trixie Whitley (daughter of Texas bluesman Chris Whitley), and bassist Daryl Johnson (a Louisiana-based sideman).
"First and foremost, I got addicted to Trixie's voice when we worked on a couple of test tracks and she did them in one take," recalls Lanois (who produced Chris Whitley back in the day) of the group's origins. "She's just great: really optimistic and talented. Any singer who can knock something out of the park in one take is someone you want to know and I believe that kind of paved the way."
To say that the experience has come full circle for the younger Whitley would be an understatement, simply for the fact that besides the friendship Lanois shared with her father, they actually shared an address for nearly two decades before they started making music together. "My dad and I were living in [Lanois'] house when I was 3- or 4-years old and they were recording his Living With The Law record," confirms Whitley, now 22. "I hadn't seen him since then up until about two years ago when he was playing a festival in Belgium with Brian Blade and we were introduced again. I gave him a CD I worked on with Meshell Ndegeocello and he called me a few months later. It automatically just clicked and Dan proposed for me to be a part of his band."
As the group's moniker implies, its sonic aura is steeped in the dub genre, which may seem like an anomaly for Lanois, best known for producing a string of albums for U2, Bob Dylan, and Peter Gabriel, plus an ongoing partnership with Brian Eno. Nonetheless, it's where the Canadian's heart lies at the moment, if only for his current residency in Jamaica and revitalized appreciation of Lee Scratch Perry.
"I love dub and Jamaican music in general and love living in Jamaica," he says. "After I came out of the last U2 record [No Line On The Horizon] feeling very black because it took two years, I wanted to pursue the dream of a new style of dub – not just echoes, but extractions and manipulations. And this is a beautiful ensemble to operate with since everyone's a modernist, though they also embrace the past but have an eye for the future. The members of this band are highly educated and inventive. This is just the tip of the iceberg and the next record will be entering another door."
In speaking further with Lanois, it's clear that Black Dub's more than a one-off indulgence, but rather a viable act he plans on continuing when schedules align. Upon closer examination, it's certainly a worthwhile endeavor, as evidenced by the sultry, groove-induced "I Believe In You," the extended rhythmic jam session "Ring The Alarm," the dreamy "Nomad," and the seductive soul of "Surely." The bulk of the eponymous LP will be highlighted on a fall tour, with a handful of Lanois' solo songs, a Whitley tune, and any covers that may come out of a hat.
"We'll play the record, Trixie's great song 'I'd Rather Go Blind,' which she shreds pretty good, and I'll have a pedal steel guitar with me for a stripped-down portion of the set," promises Lanois. "There might even be some new songs we're experimenting with that could develop from the stage, but I won't be doing any other artists' unless we feel like it since it will be a concise and compact set."
On the subject of other artists, Lanois has sculpted the studio persona of so many acts over his three-and-a-half decade career, but does have a list of favorites. Dipping back to 1983, he's quick to underscore the collaborative ambient collection with Brian Eno called Apollo: Atmospheres And Soundtracks alongside career-defining works like U2's Achtung Baby and Bob Dylan's Time Out Of Mind (which earned an "Album Of The Year" Grammy).
Though the latter pair are perhaps his most prominent collaborations, Whitley actually prefers some of his less commercially successful material. "I grew up on a lot of his own solo records, including Acadie and For The Beauty Of Wynona," she explains. "The Neville Brothers' Yellow Moon and Bob Dylan's Oh Mercy were also a huge part of my upbringing and, a little later on, Emmylou Harris' Wrecking Ball."
Despite a jaw-dropping résumé, Lanois remains remarkably humble in conversation and simply seeks to interject his passion into the studio, whether that be on the artist or production side of the coin. In either format, the veteran finally appears to have the concept of juggling down pat, such as his recent switch between the Black Dub recordings and sitting behind the boards for Neil Young's new Le Noise.
"I used to be a bit apologetic about my maneuvers, but I'm absolutely proud of everything I do and I just love the studio," he contends. "I live it and eat it and I'm really a studio rat. In regards to production, I love helping people and it's something I get a big thrill from. I want to be a curator, an advisor, and a guide no matter if it's for somebody standing up on a street corner or something that takes home album of the year. It's a high-wire act, but I'll be doing it until the day I die."
Though Whitley may not possess that same degree of experience as Lanois, she hopes to follow his prolific example, but with a slightly different twist of diversification in the visual arts, acting, or dancing, in addition to the solo career she started before Black Dub. In the meantime, she's eager for the foursome to become a force on record and the road, hopefully attracting longtime Lanois fans and newcomers alike.
"I'm super grateful to be involved because I've always wanted to be in a band, but never found that chemistry until now," she relates. "I remember when Daniel first asked me to join the band, he was talking a lot about grooves and heavy basslines with a lot of harmonies, and to look back on it now, it all blended together and just evolved so naturally."
— Andy Argyrakis