ilentertainer | Nov 12, 2010 | Comments 1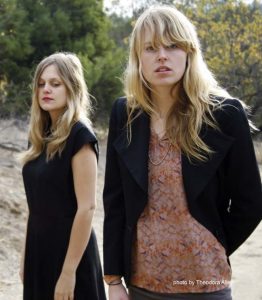 What The Chapin Sisters have it all except Hollywood. Siblings? Check. Famous family? Check. A massive breakup? Ch- well, no.
When IE discovered them at CMJ in 2007, everything was copacetic. The trio — daughters of Tom Chapin, nieces to the late Harry — were mesmerizing the audience with breezy, West Coast harmonies in tattered gowns and covering Madonna. People grappled with how to describe their intertwining voices: internecine? intuitive? extra-sensory?
But when the Chapins hit Evanston on Sunday, there will only be two of them. Our first concern was not for the other, but the remaining two. Early-'90s R&B duo SWV once explained that when they were a duo, producers told them they didn't have a chance in the industry because "there wasn't enough to look at." You think folksy alt-country fans are above that? Well what if Tres Chicas were in town Sunday night, too? Whom would you see? The good news is there was no nasty breakup, just maternity leave for sibling Jessica. And, as album two, Two (Lake Bottom), testifies, the harmonies remain as internecine, intuitive, and extra-sensory as ever. In fact, don't tell Jessica that. (Sunday@Space in Evanston with The Pines and Nemma.)
– Steve Forstneger
Filed Under: Featured • Stage Buzz • Weekly
About the Author:
Comments (1)