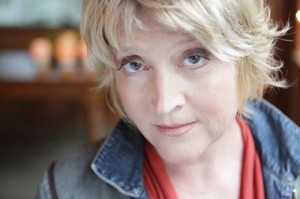 . . . that's what I thought the saying was when I was a kid. Didn't know if the granite referred to someone being a rock or having a head full of them. Anyway, it's typically what happens to singer/songwriters like Kim Richey.
There are huge pockets of musicians whose press coverage drops precipitously after an unspecified amount of time. Apart from declines in popularity, pop bands (Maroon 5), pop-punks (Good Charlotte), jam heads (Umphrey's McGee), and mainstream hard rockers (Chevelle) can't get anyone to write about them because people who know how to write well aren't interested in music that's not interesting to them. But singer/songwriters by nature should appeal to writers because of a supposed literary connection: a singer/songwriter with bad lyrics might as well not exist (someone please tell James Blunt and Jewel). Yet rarely do you read about Joe Ely, Jimmie Dale Gilmore, and Kim Richey.
You could assume that artists like those aren't really collecting fans anymore, have the audience they always will, etc. But while they're being ignored, they tend to get really good. Her record label won't want to hear this, but the reason to see Richey on Tuesday night is not because of this year's Wreck Your Wheels (Thirty Tigers), a certified acoustic folk/rock collection as there ever was. See Richey because she's no longer searching. She's a fully formed master of her craft, able to weave old catalog nuggets in with the new, effortlessly make a few covers her own, then send you scrambling home to fix your radar, because you can't believe you've been missing out for the past 15 years. (Tuesday@Schubas with Hannah Schneider.)
Also this week: Head to Lincoln Hall on Wednesday and make sure your friends know — Erin McKeown will be simulcasting her show online. We wouldn't suggest that you stand near the front and jump around like an idiot so people notice you; besides, McKeown plans on celebrating the 10th anniversary of her debut, Distillation, by playing it in its entirety . . . Aaron Lewis (House Of Blues, Wednesday), Mushroomhead (Logan Square Aud., Thursday), and Pepper (Metro, Thursday) certainly fall into what we were talking about above, as Creed-ish mope metal, industrial grind, and frat-reggae don't exactly tickle the groins of the cognoscenti.
— Steve Forstneger
Category: Featured, Stage Buzz, Weekly