Harper's Calling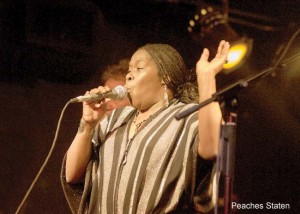 Traditionally, autumn signals the harvest and what a bountiful crop that the blues has sown. A new Chicago label, Swississippi Records, launched last month and has released an impressive collection of classic blues albums. With a name that references CEO Chris Harper's European heritage and manager/producer Dave Katzman's love for blues history, the label aims to attract a bigger blues audience with a multi-platform push of retail and online visibility. Swisissippi celebrates with a huge release party on the 3rd at Mayne Stage in Rogers Park.
Much of that focus will most likely go to Peaches Staten, a powerhouse singer/songwriter whose Live At Legends displays memorable energy and skilled musicianship. The CD's nine tracks were recorded live at Buddy Guy's last May, making Staten the last blues artist to record at the original Legends space. The selection is small but diverse, mixing originals with blues classics and even a catchy cover of Robert Palmer's "Bad Case Of Lovin' You." A highlight unfolds when Staten belts over a zydeco-flavored, zesty original, "Gotta Find My Man," while playing the washboard. She started her career in a zydeco band and the vestiges of that experience echo in her playing and kicky delivery. Another standout is Staten's robust cover of Tina Turner's "You Know I Love You," where she digs deep for the requisite grit and soul. Although she boasts an established following in Europe, it's time for the U.S. to take notice of her talents.
Another Swississipi offering is Harper's Four Aces And A Harp, a rousing treat for traditional blues fans. The 18-track trove features pure blues by Chicago blues all stars Jimmy Burns, John Primer, Willie "Big Eyes" Smith, and Bob Stroger, while Harper underscores their genius with swirling harp licks. The idea behind the album was to showcase acoustic Delta blues on the first half and electric on the other to demonstrate the progression. No matter which style you prefer, the sheer magic of the acoustic tracks' rolling melodies as well as the brilliance of the electric will draw you in.
With a lovely instrumental of Duke Ellington's "Don't Get Around Much Anymore" serving as the dividing line, every tune is essential listening. From the exquisite Delta longing of Burns' vocals on "Smell Trouble," to the singular growl of Tail Dragger on the electric sizzle of "Evil Is Going On," this album is a near-perfect tribute to the blues. Although Harper's originals are a bit indulgent, the rest of the CD more than makes up for it. Four Aces And A Harp masterfully earns its title.
If that's not enough, guitarist Rob Blaine serves up hot contemporary blues for Swississippi on the excellent Big Otis Blues. The 12-track CD immediately sets the bar high with the explosive "Not The Forgiving Kind," where Blaine showcases both his sharp guitar chops as well as his husky, passionate vocals. The evocative ballad "Only Mine" reveals that he's not just a showy performer but can delve into real emotion. "Same Old Blues" goes even deeper, managing to reference traditionals with a contemporary sensibility. A local presence as a backing guitarist, if this set is any indication, Blaine won't be in the background for much longer.
Anything from the Godfather Of The Blues guarantees heady listening, but the previously unreleased Junior Wells & The Aces' Live In Boston 1966 (Delmark) provides not just entertainment but an important historical document. It shows Wells in his prime, his dynamic personality pushing through the recording.
Live In Boston highlights an interesting point in Wells' life. He started his career in 1950 with The Aces, a band made up of brothers Dave and Louis Myers and drummer Fred "Professor Of The Blues" Below and they helped redefine Chicago blues with a hipper, more soulful interpretation. Little Walter hired The Aces as his first band and Wells played with Muddy Waters during the rest of the decade, but The Aces remained his favorites. In 1966, instead of taking his regular Chicago crew to play in Boston which would have included Buddy Guy and Jack Meyers, he reached back and took The Aces. The ease and intimacy of the musical interplay is all over the recording.
The 19 tracks showcase Wells' riveting set with his banter interspersed between. It's the kind of high-energy, groove-heavy show that Wells was famous for and the CD positively cackles with his vibrant spirit. The songs present familiar blues offerings transformed with killer grooves like "Look On Yonder's Wall" filled with harp hotness and "That's Alright," where Wells' vocals swoop with pain. But the wonders of the CD are the largely improvised tunes, like "Junior's Whoop," which frolics into great extended solos by Wells and Myers and "I Don't Know," where Wells delivers sly banter referencing Sonny Boy Williamson's "Fattening Frogs For Snakes" and then rolls into intense harp blasts. The musical flow was moving and Wells rode the wave for dazzling effect. Even the ending take on "Got My Mojo Working" receives a fresh and inspired intro. As Wells remarks on the recording, "You got to have a hole in your heart if you don't feel this."
— Rosalind Cummings-Yeates
Category: Monthly, Sweet Home