Faces For TV: Chicago's Fabulous Manno Brothers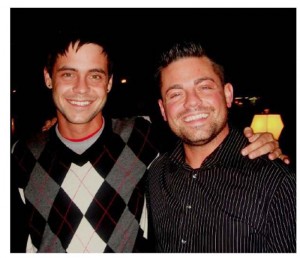 "Growing up, I never thought beyond Q101," says Kevin Manno, 27, who recently left the WKQX-FM show he co-hosted with older brother Ryan Manno, 29, for the MTV show "The Seven" – a live countdown of the day's top seven pop-culture stories that debuted September 20th.
"It was my goal to be a DJ on that radio station," says the younger Manno, who now lives in Manhattan's Upper West Side. "Once I made that happen, television became the next obvious step. It wasn't something I ever set out to do; the transition was extremely organic. I can't really say where this will lead me/us. I would love to work with Ryan again at some point down the road; we inspire a great deal of creativity in one another."
Ryan continues to host the WKQX-FM (101.1) radio show weekdays from 7 p.m. to midnight, and act as host and segment producer at JBTV (www.jbtvonline.com). "TV has always been a goal for me" he says. "Media in general is the goal."
The Manno brothers' foray into rock 'n' roll media began when they were growing up in Highland, Indiana – when Kevin says he turned Ryan onto Q101. "For years, it was the only thing I listened to," Kevin recalls. "I was addicted. While I was a fan of the bands, I was a superfan of the DJs. I called them all the time and I would try to get to concerts, public appearances, etc. in order to meet them."
"Kevin won tickets to Q101's Jamboree in 1997," says Ryan. "He was caller 101 and Steve Fisher put him on the air at 14-years old. There's something really cool about stepping on stage to introduce a band at Jamboree 14-years later."
While Kevin's first record was the "Fraggle Rock" soundtrack, he soon moved on to The Monkees at Ryan's suggestion. Kevin says Ryan turned him onto "Weird Al" Yankovic when he was eight. "Neither were shining examples of good taste, but our mutual influence started early and stayed that way," says Ryan – whose first records were by Def Leppard and Shai.
These days, Ryan's favorite local musicians are David Costa, The Fold, and Makeshift Prodigy. Kevin, who likes Rise Against, Alkaline Trio, AM Taxi, The Flavor Savers, and Thrilage, recently bought "American Slang" by the Gaslight Anthem. "Working at Q101, I would obviously get most albums for free, but I am very serious about buying music from the bands you love. They all need and deserve the support."
Growing up, the pair took guitar lessons and started a short-lived band called Skratch – which Kevin says does not even deserve to be called a band. He claims he has zero musical talent. Ryan played in a "a really crappy" Operation Ivy cover band called Animal in the late 1990s. "We did all of our friends' graduation parties and thought we were awesome," he says. "We weren't."
But they were hooked on the music. "We both had a plan to go to North Central [College] for radio and then get jobs at Q101," says Kevin.
"It was the closest thing to a career in music, without struggling as a starving artist," says Ryan, who led the way. A Q101 internship led to an overnight shift and a full-time job on Mancow Muller's radio show from 2003 to 2006, where he worked as music and entertainment reporter, booked guests, did audio production – and was a full-time cast member, as Ryan the Gay Mexican. "I'm straight. And Italian," he explains.
Kevin followed his footsteps, winding up as a Q101 promotions assistant. "Sometimes he'd end up driving me to my appearances, which was weird," says Ryan.
Ryan eventually landed a nighttime show on Q101, and Kevin did overnights. In 2007, they got their own show, which combined music and talk. "I think we got paired together because everyone saw how well and naturally we worked together in every day life," says Ryan. "It's such a unique hook, too. No brothers have a radio show together! Program directors spend so much time trying to build a show and force chemistry. When you grow up together, you can't buy chemistry like that."
Kevin says he was able to completely be himself around his brother. "Honestly, I miss seeing my brother every day. We were never closer than we were for those two years."
So will Kevin turn into a celebrity snob at his high-profile gig at MTV? Not likely, says Ryan. "It's not in his DNA. He's the most innocent, wide-eyed kid I know. This won't change him for the negative. But if it does, I've got plenty of embarrassing crap to hang over his head and bring him back to Earth."
The pair hopes to one day work together on a TV project. "I can't give you a start date, but I'll tell you that it will happen before I die," says Kevin.
"Whenever we can find someone smart — or stupid — enough, to trust us," says Ryan.
— Cara Jepsen