Chicago Theatre, Chicago
Sunday, October 17, 2010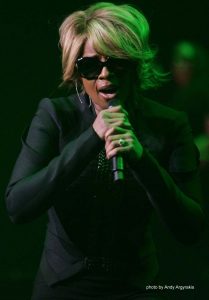 Even though this year's Lilith Fair suffered terrible ticket sales, one of the few successes was the attention-commanding appearance by Mary J. Blige. Aside from expanding her audience to convert the Sarah McLachlan-loving masses, "the queen of hip-hop soul" proved she's finally hitting her stride as a live performer after almost two decades worth of chart conquests.
Her much-deserved headlining set gripped a sold-out Chicago Theatre, which transformed into a throbbing danceclub as the charismatic diva took the stage backed by a six-piece band, three background singers, and two dancers. Indeed, her previous trip through town was just a tease for this, chock full of no less than 30 tunes (albeit some abridged) that neared two smoldering hours.
Following a regal build-up of the pumping instrumental "Music Saved My Life" (also the tour's namesake), Blige exploded with "MJB Da MVP," a battle cry from a projects girl who graduated to superstardom. And as she unfurled hit after hit, it was clear Blige's celebrity wasn't by accident, but due to her mighty vocals, overflowing charm, and uncanny ability to relate her self-assurance songwriting style toward any listener's personal situation.
"Enough Cryin" urged the broken to pick up the pieces and start again; "You Bring Me Joy" celebrated everything going right in a relationship; while "Be Happy" spoke of independence following abuse. Though her themes tended to run together at times, Blige varied the arrangements on several occasions, benefiting from a live band's backing in place of slick studio reproductions. The most sterling example came during the new-jack swing jam "Real Love," which traded its dated '90s flourishes for a contemporary R&B veneer.
Blige also showcased her ability to stay in the game via newer tunes from 2009's Stronger With Each Tear, including the rap-infused "The One" (featuring Drake on record) and the Top 40 textbook tune "I Am." The performance also reached an emotional pinnacle during an acoustic rendition of the similarly titled "Take Me As I Am," which highlighted her bellowing pipes and message of empowerment all the more given the stripped-down setting.
In fact, the emotional display served as a fitting crescendo for a home stretch of hip-hop throwdowns, kicking off with a particularly theatrical treatment of "No More Drama" and the neo-soul strutter "Work That." During "Just Fine," Blige once again sang of her past heartache being resolved, though the jubilant retro throwback put a celebratory spin on the familiar topic. "Family Affair" was a purebred party and would've served as a fitting finale, though the headliner surprisingly wrapped on the tender in comparison note "Be Without You." Regardless of her tempos or topic, Blige's vocals were consistently solid, though even more impressive was her ability to blend down to earth appeal with a larger-than-life stage presence.
— Andy Argyrakis
Category: Featured, Live Reviews, Weekly