Q&A with Kevin Chalfant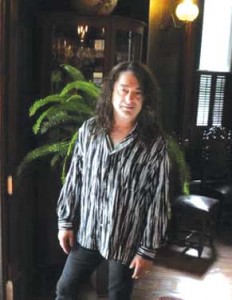 IE: You've been in a ton of bands over the years. Could you give us the official lineage?
 
Kevin Chalfant: Well I started in Illinois in the late 1970s, went to California in the '80s through mid-'90s and them came back to Illinois. In Illinois, one group was called The Jones Band, which was an original group that developed into Fortran, which did a lot of opening slots for bigger bands at the time. As fate would have it, a situation opened up for me in California in 1981 when I hooked up with George Tutko, another guy who was originally from Illinois , who was working at Cherokee Studios in Los Angeles . I was telling him I thought it was time to make a change and it was really funny because the next call he got was from Kevin Russell, who was the guitar player for 707 who was looking for a lead singer. So the two Kevins looking for one another hooked up and made the record Megaforce together, but after the Boardwalk label president Neil Bogart died suddenly, we found ourselves on the outside of the company.
 
I just started putting my feelers out in the San Francisco Bay area after that and formed The Vu with Ross Valory [Journey], Prairie Prince [The Tubes], Stef Burns [Y&T] and Tim Gorman [The Who] and we made an entire CD, but it didn't release until much later. In the early '90s, I met Gregg Rolie [Journey and Santana] and we formed The Storm with Ross, Steve Smith [Journey] and Josh Ramos [Hardline]. After we signed to Interscope, we had some hit songs [I've Got a Lot To Learn About Love" and "Show Me the Way"] and toured with Bryan Adams and Peter Frampton. But then "Cop Killer" rap came along and Interscope did a shift, so we went independent. We did a second Storm CD that ended up releasing through bunch of indie companies and then Gregg got put in Rock and Roll Hall of Fame with Santana and that was pretty much the end of The Storm. So I released a solo record in 1997 called Running With the Wind that was cut in Nashville and was a real departure from the Journey-esque sounding music in favor of an earthier vibe. After that, I formed a new group called Two Fires and that was a really good outlet for me where I wrote a lot of songs with Jim Peterik, Chuck Giacinto and Alby Odum.
 
IE: What type of musical direction were you going for on the new Two Fires CD?
 
KC: Burning Bright ties all of those projects together taking bits of what I did with the Journey guys in The Storm and the earlier Two Fires stuff, basically melodic rock that sounds real punchy and takes it up a notch as far as production with George Tutko [John Mellencamp, Rod Stewart] mixing the record.
 
IE: Any Journey connections this time out?
 
KC: Back in the '90s after The Storm was done touring, there was a Herbie Herbert charity roast in San Francisco . They invited all the bands Herbie's worked with, like The Storm, Journey, Mr. Big and a bunch of others, and we all came there to perform, but Steve Perry declined because he was working on a solo project. So the band [Journey] basically asked me if I would jump in and fill in with them so I did and it was a great success. In fact, the San Francisco Chronicle had a picture of me on the cover of the music section that was a real compliment to be able to get up there with them and be able to hold my own. In the days following, Gregg, Neal [Schon], Jonathan [Cain] and I started writing songs. I guess the idea was "hey, Kevin could do this so why don't we just do this with Kevin?" That was the plan, but that plan changed [when Steve Perry returned]. One of the songs that came out of our writing sessions was "Some Things Are Better Left Unsaid." It was sitting there and I was holding onto it with the thought that maybe someday we'll be able to do this together, but finally just came to the realization that I wanted to get this stuff out. So Gregg, Neal and I wrote this song on the new record and my band performed it spot on.
 
IE: How do you account for the fervency of the melodic rock audience, especially overseas?
 
KC: I see it mainly when I'm playing or selling records in Europe . It's like it used to be here in the late '70s and early '80s and they just haven't outgrown that genre. That's not to say they're aren't people here that love that genre any less because there are, but when we do festivals over there, people just come out in droves.
 
IE: What inspired you to start the Voices of Rock Radio all-star band?
 
KC: I was pretty involved with World Stage with Jim Peterik and I've also been a guest singer with Gregg Rolie Band and the Alan Parsons Live Project. Working with a bunch of different singers isn't an original idea, but it's definitely something I wanted to do. I remembered touring with 707 and opening for the Ted Nugent Band and getting along great with the singer Derek St. Holmes, so I called him up and he was like 'yeah man, let's do it.' The same happened with Jimi Jamison, John Cafferty and Wally Palmar from The Romantics, so that's basically the nucleus.
 
IE: What can Chicagoland expect from your upcoming Voices concerts?
 
KC: Well I'm doing a show with Jimi on October 22 at the Arcada Theatre in St. Charles and we kind of split the duties and just have a great time together with my live band. Then on December 10, we have the whole Voices line-up at The Venue at Horseshoe Casino [in Hammond, IN], which is a benefit for my hometown of Streator after getting hit by twin sister tornados side by side and it tore up a lot of people's property. It was originally scheduled for September 4, but now it's going to be part of WLS ' Roe & Roeper Live Holiday Extravaganza [and will also benefit the USO of Illinois]. It's really good timing because there's a good chance I can pull in other singers who may be off tour, but for sure you'll hear the main singers doing all the hits. 
Kevin Chalfant performs October 22nd at Arcada Theatre in St. Charles and again with Voices Of Rock Radio at Horseshoe Casino in Hammond, Indiana, on December 10th. Q&A by Andy Argyrakis.