Dave Matthews Bang!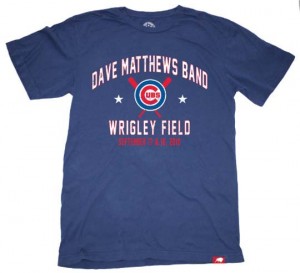 When you dump a truckload of shit in the Chicago River, you answer to Samir! Clark Street belched a bummed-out "No way!" late last month when the FBI foiled a plot to kill Dave Matthews Band fans after the September 18th Wrigley Field show. Twenty-two-year-old suspect Sami Samir Hassoun was allegedly stirred not by religious conviction, but a Rod Blagojevic-on-steroids obsession with money and "political transformation," and planned to fill a trashcan at Clark & Eddy with high-powered explosives as DMB revelers milled about. The Bureau caught onto Hassoun early, according to the federal complaint, and tricked him into purchasing a fake bomb and then watched him plant it before making its arrest. Among Sami's – who never mentioned Sammy Sosa – other plots were poisoning the lake, killing Mayor Daley, and bombing Willis Tower.
Set To Stun
Have you ever had that dream where you're walking past the Atlantic Records HQ in New York and you suddenly happen upon several thousand, monochromatically dressed protesters demanding the release of a new Lupe Fiasco album? No? You will once you read about the preposterous event actually taking place. Nearly 30,000 people have signed an online petition in hopes of jarring the Chicago-based rapper's third album loose from its evil stepfather. Lasers has been on the release docket for nearly a year, delayed by alleged promotion issues between straightlaced Fiasco and his label. On October 15th, fans are encouraged to don the Lasers "uniform" – us neither – and swarm — UPDATE: A Chicago March will begin near Buckingham Fountain. Fiasco himself has told the press he's touched by the support and released a free track ("B.M.F.: Building Minds Faster") from Lasers' supposed followup, Food & Liquor II, to say thanks. We'd like to hear more about the unis.
Nope, Wait: It's Collapsing
Maybe you've seen the ads a coalition of magazine publishers has been running, that talk about how great they are and numbers are actually up, and my isn't that a lovely dress – would you like to buy a subscription? The music business has been in a similarly eccentric state of denial for nearly a decade, though in truth the major-label model has not been vanquished and bands continue to flock to them for deals and exposure, etc. Yes, the concert season took a pounding, but we're in a recession and – hey! U2 had to postpone until next year. But then came Katy Perry's news. The dilettante's sophomore record led the industry's annual back-to-school release push, and appropriately/immediately topped the charts. Yay, EMI! But it only shipped 192,000 units, well below half- to three-quarter million projections. EMI did some government-style accounting to say – when combined with downloads of powerhouse single "California Gurls" and other individual tracks – Teenage Dream surpassed 689,000 copies. The Associated Press quoted an unnamed rival executive, who wasn't so rosy: "I'd like to meet one industry executive last week who thought her album would do under 200,000 units, because I don't think that person exists." Yeah, we'd like to meet you too, Mr. I Don't Exist!
Building A Better Street Fest
In a recent Web post, we teased the Hideout in our jocular, yet insightful prose for not having thrown a serious, summer-ending block-party pajama jammy jam (as was tradition for 10 years) since co-owner Tim Tuten joined the Obama administration's education staff. No sooner had we uploaded did the North Side club e-mail a retort: Their section of Wabansia Avenue – like half the streets in Chicago – is enduring some construction (have recovery dollars gone anywhere else?), so this year Hideout helps program Design Harvest on October 2nd and 3rd. Organized to promote furniture artisans in the "Design District" near Grand and Damen Aves (a.k.a. West Town), there will be cozy Hideout comforts like Goose Island beer and acts such as Robbie Fulks, The Hoyle Brothers, and Golden Horse Ranch Square Dance Band, though an unfamiliar 7p.m. end time. Lucky for you, Hideout's still open after the hard hats go to bed. Visit Design-harvest.com for more.
— Steve Forstneger