Gibson
John Lennon 70th Anniversary J-160E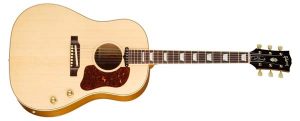 In honor of John Lennon's 70th birthday in December, Gibson Acoustic announced three limited-edition 70th Anniversary John Lennon J-160E acoustic guitars to celebrate the legacy of the legendary Beatles songwriter/guitarist.
Recreated by the luthiers at Gibson's Montana acoustic guitar facility in '60s-era detail, the septuagenarian John Lennon models will be available in three distinct versions to represent the instrument at three periods in Lennon's life and career. The first, finished in vintage sunburst and limited to 500 guitars, represents the guitar as it was when Lennon first acquired it and used it on several early Beatles recordings from 1963 to '64. The highline finish includes a laminated sitka spruce top, mahogany back and sides, and Lennon's classic vintage sunburst lacquer finish from the Hard Days Night sessions. Also included are P-90 pickups, as well as various Lennon commemorative signatures that justify the asking price of $4,728. The second guitar is an Imagine model in a soft white finish personally requested by Yoko Ono to reflect the sentiment of her husband's life and music during the recording of Imagine, circa 1970-'71. The third model is a recreation of the instrument on display at the Rock And Roll Hall Of Fame in Cleveland, with a thin, natural finish and Lennon's famous "John And Yoko" caricature sketches, representing the appearance of the guitar during the famous Lennon/Ono "Bed-In" peace protests of 1969. The custom shop's second and third renditions are limited to 70 guitars each, and both include a special 70th Anniversary Certificate personally signed by Ono and sent to the final purchaser by certified mail. Retail price on the Imagine model is "collector-priced" at $10,748 while the Museum model clocks in at $15,048. "To say how proud I am of these new John Lennon Anniversary guitars is a huge understatement," said Henry Juszkiewicz, Chairman and CEO of Gibson Guitar. "The legacy that John Lennon has given music fans around the world is unprecedented and the friendship Gibson continues with Yoko Ono is demonstrated in these remarkable instruments that are in tribute to arguably one of the world's greatest musicians." To ogle, visit www.gib son.com.
TASCAM
DR-03 Portable Recorder
The $100 price barrier for portable recorders for musicians has been broken! The new DR-03 makes Tascam-quality handheld recording available for the first time for less than a C-note. The device features 24-bit recording in a package smaller than a candy bar. (And unless you're really a warm person, it shouldn't melt as easily.) The DR-03 records to MicroSD media and a 2GB card is included to start capturing audio right away. The built-in high-quality condenser microphones are recorded as either WAV or MP3 files, up to 48kHz/24-bit; like many of Tascam's best-selling portable recorders, the DR-03 features playback functions like looping and Variable Speed Audition to slow down music without changing the pitch. It's designed for low-handling noise when recording handheld during concerts or interviews. Included low-cut filter, analog limiter, and manual and auto gain settings help to prevent distortion when recording. In addition to the built-in microphones, an 1/8-inch mic/line input allows recording from mixers, external microphones and other sources.
Tascam's DR-03 is available now from select retailers for a street price under $100. Visit www.tascam.com for details.
— David Gedge