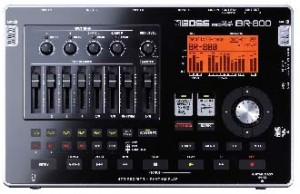 Boss continues to battle competitors with more portable and relatively affordable multi-track recorders with its new BR-800 Digital Recorder, a battery-powered studio "to go" using newly designed touch-sensor switches and SD-card recording media. Up to four tracks can be recorded or eight tracks played back simultaneously, plus an additional stereo track dedicated to the built-in rhythm generator. Whether you're creating intricate, multi-layered songs or on-the-spot live recordings, the BR-800 makes the recording process much easier, according to the Boss man. Newbies will love the new "EZ Recording" mode that interactively guides users through the recording process. Other helpful features include the "mulligan" Retry function, which re-cues automatically to fix recording mistakes, and a Song Sketch option for recording with an instant, one-touch capture. Included is a built-in stereo condenser microphone, plus a DR-880-quality drum generator for adding drum and percussion tracks to your songs. Effects can be added with the acclaimed BR-800 effect generator. Many of the effects are derived from Boss' flagship processors, including VE-20 vocal effects, GT-10 guitar/bass tones, and modeled acoustic-guitar body effects from the AP-1 preamp. The BR-800 gets power from an included AC adapter, or, for ultimate mobility, it can be powered from six AA batteries. A USB jack connects to a PC, and lets the unit function as an USB audio interface for recordings that utilize the internal effects. The BR-800 can also function as a control device for DAW software sound like Pro Tools. No matter where you roam, Boss is counting on the notion that you'll use the BR-800 instead of your laptop to capture your next brilliant rock opera. MSRP is $524. Visit www.bossus .com/Gear/BR-800.
Jonesing on all things retro, British Amplifiers has announced that a limited-edition, golden-anniversary reissue of the legendary Watkins Dominator V used by Pete Townshend and Eric Clapton before Vox and Marshall took over the '60s British amp scene. To celebrate 50 years, only 100 of these iconic amplifiers are going to be available. Reissue Dominators are identical to the original with the only exceptions being U.L. safety-standard compliances. Small cosmetic details have not been overlooked, including control knobs and custom transformers cloned from originals that ensure both the look and sound have been faithfully recreated. The original Watkins 17-Watt "Push Pull" circuit remains as well as its unique V-front cabinet design. To complement the '60s vintage valve tube sound, Celes-tion G10 Vintage speakers are inclu-ded. The "you must be crazy" list price? $1,900. Visit www.britamps.co.uk.
Now's the time to put away your tangerine Speedo and break out the ol' guitar. And if you decided that it's time for a new axe, September is a perfect month for some new gear. Tobias Music is hosting their version of the Taylor Guitar Roadshow Thursday, September 23rd at the Tivoli Theatre in Downers Grove. This year's show features both Grammy-winner Wayne Johnson showing some of Taylor's newest hardware, and company founder Bob Taylor answering questions and showing his newest wares. Details can be found on this month's ad as well as www.tobiasmusic.com. If vintage axes are your thing, The Elgin Vintage Guitar Show is also back on Sunday, September 26th at the Holiday Inn in Elgin at Rt 31 & I-90.
— David Gedge