Bourbon At A Young Age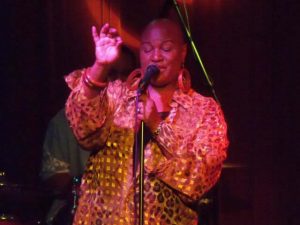 As a child in New Orleans, Tovi Khali didn't quite know what she wanted to be when she grew up, until she first glimpsed inside Bourbon Street blues clubs. "I'd be outside watching the singers and I knew I wanted to do that," says Khali. "If it weren't for the blues, I wouldn't be doing what I'm doing."
Appearing: August 8th at Rumba in Chicago.
What she's doing includes performing her own brand of funky, soulful blues at Chicago clubs and events, composing emotional, nuan-ced songs and writing spoken-word pieces. Her journey from NOLA to Chicago colors much of her performance, from the tinge of longing, to the deep-down anguish that pours out of her soul. As a Katrina survivor, no matter what genre Khali is singing, the blues is never far from the surface.
"I was sneaking into blues clubs and singing by the time I was 14," she says. "I'd perform with the bands and drink Drambuie afterwards," she recalls. Her gift for commanding a crowd came even earlier. In grammar school, she often played class clown, and when her teacher put on Elvis and Beatles videos to occupy the class, Khali learned to sing the classic tunes. "I'd sing 'Jailhouse Rock,' only nobody was laughing," says Khali. "One girl said, 'Your voice sounds just like a record,' and my teacher came in and said, 'It sure does: You're entering the talent show.' Khali won the talent shows, writing contests, and every local competition that she entered. She began slipping into the blues clubs after her mother refused to let her attend a performing-arts high school. By the time she finished a public education, she decided that she would develop her talent on her own, in Los Angeles from 2000 until 2004 "to polish myself," she says. "I wanted to find out if I could measure up. I took voice lessons, artist management lessons, and I performed all over L.A. paying my dues."
She crafted her individual sound by mixing funk with New Orleans, spoken word, and blues. "Nobody could figure out how to label us. I named my band Je Na Sais Quoi — meaning 'I don't know what,' because I got tired of hearing that people didn't know what to make of me." Her 11-track CD, Tovi Khali The Official Bootleg, reflects this genre-bending tendency. The tunes move from jazzy soul on "Time" to groove-focused funk on "Smoke Signals" to Delta-flavored blues on "Love Thing" for a Bourbon Street gumbo.
By the time she arrived back in her hometown in 2005, she had perfected a sound and stage presence enough to perform at the same club she snuck into as a child. She sang with Dwayne Doopsie, Prince Of Zydeco, as well as at the ultimate local showcase: The New Orleans Jazz & Heritage Festival. "I sang Ray Charles' 'Night And Day' and the crowd went wild. There's nothing like that kind of adrenaline."
Khali was also invited to perform at the French Quarter Festival and to undertake the coveted role of MC at The Old Opera House on Bourbon Street. Buzz surrounded her and doors were opening. Then Katrina hit.
"Katrina really devastated me. Not only did the levees break but so did my emotions. Music has saved me," she says. Khali was living in the French Quarter when the hurricane hit but she had no evidence that it would not be like the dozens of other hurricanes that she had weathered. "I've been through many hurricanes and my family never evacuated," she says. "I knew something was wrong after Katrina because nobody came out to pick up and clean up and come together as a community. It was just really quiet. It was eerie — there weren't even any birds."
Khali found refuge in a French Quarter hotel "built like a fortress." She and her boyfriend stayed there for two days after the hurricane and a day after the levees broke with no water, electricity, and little food. Miraculously, they escaped on a chartered bus (for people with immediate needs; her boyfriend suffered from asthma and was forced to share an inhaler) that somehow made its way to the hotel with water flooding the streets.
"People were running to the bus, crying for help, beating on the bus. The bus driver was weeping, the whole bus was weeping. I saw a baby floating face down in the water, buildings crumbling, the water swishing up above us. I couldn't believe what I was seeing." Khali and her boyfriend were dropped off at a small Houston airport. They cried uncontrollably when they read the newspapers and realized that they had just escaped death. "People we were with the day before didn't make it," she says. "Survival changes everything. Nobody was better than anybody. Everybody was on a level playing field. Katrina did not discriminate ."
The only possessions that Khali managed to salvage were her guitar, some clothes, and her CD. She received grief counseling to cope with the nightmares of devastation but her music provided the real therapy. "I write about what I feel and I don't put everything in heavy metaphor. There are some things that I just put out there because that's my truth and I don't play my audience as stupid. My gift is not singing or performing, it's reaching people. There's nothing like getting up there and singing your song and having people respond."
— Rosalind Cummings-Yeates
Category: Columns, Monthly, Sweet Home