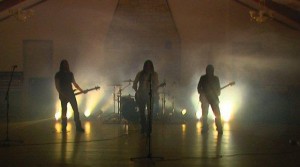 At Linder Avenue Recording in Roselle, producer/engineer Travis Brown blocked out dates with his project Saline to record material for their debut . . . Drummer Hannah Ford laid new tracks for the Bellevue Suite (above) single "Just Love" to be re-released later this summer; Dom Palmisano engineered.
At MILLION YEN in Chicago, seminal Chi-town hardcore outfit Vic Bondi and Articles Of Faith recorded an EP for Jello Biafra's Alternative Tentacles label with engineer Jeff Dean . . . Juno Award-nominated, Toronto-based producer/engineer Jon Drew recorded Noise By Numbers (Screeching Weasel, Methadones, River-dales, The Bomb) for Asian Man Records . . . Local punks Anxiety High worked on their second CD with owner Andy Gerber.
UPTOWN RECORDING in Chicago now offers space for youth birthdays. Children will be given a hands-on, kid-friendly overview of a fully operational commercial recording studio. After the brief tour, the birthday boy or girl will be transformed into the lead singer of their own band with friends participating as back-up vocalists, musicians, or even helping in the control room. Each guest will receive a personalized souvenir recording of the song featuring a group photo printed directly on the disc. Kids and adults are invited to come dressed as their favorite rock star. Call (773) 271-5119.
2BU Studios in Lincolnshire, a recording and video-production studio for kids, celebrated one of its own rock stars. Rob Kleiner, who manages 2BU's recording wing, recently had one of his songs selected by music superstar Cee-Lo Green. to be featured on the Twilight Saga: Eclipse movie soundtrack.
"If you listen closely you can hear my whistling in the background of the song," Kleiner pointed out to a recent group of campers, who were recording their own song at the studio.
BACKTHIRD AUDIO in Aurora forked four days over to The Hyrax. After 32 hours and a large order of sesame chicken, the band about finished their first full-length album . . . Randy and Audra Miles have been in and out recently to record vocals for a Christmas-classics CD due this December.
The secret society of Chicago-based studio nuts, EARS (Engineering And Recording Society Of Chicago), The Recording Academy, and the P&E celebrated in July at JOYRIDE STUDIOS in Chicago.
Despite the suggestive title, Soft Speaker's Stranger In The Alps wasn't recorded in Western Europe or even on a German-themed bender heading up Lincoln Avenue. Mike Lust recorded the drum and bass parts at PHANTOM MANOR RECORDING; Joe Daley handled the other instruments at LOW ORBIT; and owner Carl Saff at SAFF MASTERING polished it off. All rooms are in Chicago.
At FAIRVIEW RECORDING in St. Charles, Dead Mans Wake recorded It Comes To This, which they then took to MASSIVE MASTERING in Schaumburg . . . Ceiling Stars likewise used multiple shops on their latest album. All The Fallen Parts was mostly recorded and mixed by Jonathan Schenke at E.S.S. in Chicago, though mixing and additional tracking occurred with Dan Dietrich at WALL2WALL RECORDING, also in Chicago. Further, strings were engineered by David Osborne at THE LOFT . . . Schenke likewise assisted with some tracking, mixing, and mastering on Caw Caw's Bummer Palace (Trust Tapes). The rest was handled at INFRASONIC SOUND in Los Angeles . . . Mike Hagler mastered Dan Wallace's self-recorded Den Of Maniacs at KING SIZE SOUND in Chicago.
Condolences to acclaimed Chicago-based producer/engineer Harry Brotman, whose wife Helen passed away suddenly in July.
Category: Columns, Monthly, Studiophile