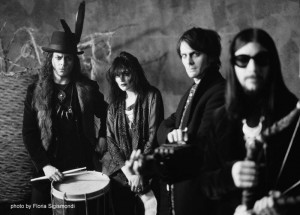 Biblical storms, record heat, itchy shirt tags, and the nagging suspicion we forgot something — we've made it through July, Chicago. Together we can do anything. Together we can prevent forest fires. Here's what's left on Friday.
Jack White just might be the hardest working musician in the business. When he's not recording radio-ready alt-rock with The White Stripes, or releasing even more critically acclaimed (and fan-acclaimed) tracks with his friends in The Raconteurs, he's collaborating with a whole different set of musicians for his other side-project, The Dead Weather. Already on their second full-length album (Sea Of Cowards) in two years, The Dead Weather allows White yet another unique outlet for his overstock of creative juices. This time, he gets to take a break from frontman duties and churning out hooks on his electric, and instead drives the songs from behind the drums. Of course, White can't resist the opportunity to add his signature wail to some of the songs, but this time he gets to sing alongside someone who can match his vocal intensity and distinctiveness — Alison Mosshart of The Kills. The duo's sound, meshed with Dean Fertita's (Queens Of The Stone Age) guitar and Jack Lawrence's (The Raconteurs, The Greenhornes) bass, generates a blues-fused alt-rock sound that is truly greater than the sum of its parts. (@Congress Theatre with Harlem.)
— Carter Moss
Unlike in Europe, where huge metal fests garner enormous crowds seemingly on a weekly basis, Stateside metal festivals are still very much an underground phenomena, despite the mainstreaming of conventional metal, and the growing popularity of extreme metal genres.
With Ozzfest severely scaling back its dates (it will make an appearance August 17th in Tinley Park), and the spiraling degradation of the Warped Tour, which demands that you endure loads of marginal acts to see a few exceptional ones (and caters more to a punk/indie-rock audience anyways), fans of aggressive, confrontational music have limited options. Welcome the Rockstar Mayhem Festival to fill the void.
 
As it has the previous two years, Mayhem features an incredible lineup, representing a gamut of metal genres that are sure to find plenty of crossover appeal. The quality of any festival lies not only in the big-name headliners, but the smaller draws on the side stages, and Mayhem absolutely slays on both fronts. With Korn, Rob Zombie, Lamb Of God, and Five Finger Death Punch, you have a wide-ranging and versatile set of top-shelf metal acts sharing the main stage; but the more intriguing bands will be playing earlier in the day on the second stages. Hatebreed, Chimaira, and Norma Jean comprise a triumvirate of metal/hardcore legends, and represent the twisted evolution of the genre. Having laid some of the initial foundation for contemporary metalcore with its scathing dynamic, vicious noise terrorists Hatebreed has already achieved legendary status. Interspersing stops on Mayhem with a headlining tour promoting its latest DVD/CD set, Coming Alive (Ferret), Chimaira is perhaps the most creative metalcore act going, splicing an experimental edge with its flailing bludgeoning and a thundering melodic angle that inject vitality into a genre that is subject to stifling confines. Its crushing live show has been honed to surgical precision and the band blasts rippling waves of intensity from the stage. Norma Jean has twisted through several musical contortions over its career, but Meridional (Razor & Tie) is a dark, menacing return to its metal-inspired hardcore roots. With Atreyu, In This Moment, 3 Inches Of Blood, Shadows Fall, and Winds Of Plague rounding out the bill, you have a non-stop onslaught that should send everyone home happy, ears ringing with tinnitus and necks stinging from whiplash. (@First Midwest Bank Amphitheatre.)
— Patrick Conlan
But if you wanna get really messed up . . . well, no. On the other side of the spectrum, Tift Merritt stands firmly in the middle while others hang on the fringes. It's not an indictment — despite toiling in country-wrapped singer/songwriter pop, Merritt's successfully woven lush Memphis soul, searing self-effacements, and cozy familiarity for the better part of a decade. On her fourth album, See You On The Moon (Fantasy), she's still "trying to get the engine to turn," as she sings over one Byrds-y jangle. Despite the title track, one sisiphysian task she doesn't bother herself with is reinventing the wheel; readymade tropes sometimes fit like an old sweater. (@Lincoln Hall with Dawn Landes.)
— Steve Forstneger
Category: Featured, Stage Buzz, Weekly