Q&A with Paul Weller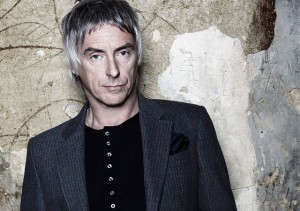 IE: Are you gearing up for the England/ Algeria game?
Paul Weller: Yeah. I'll watch with me girlfriend tonight. Just be home.
IE: You've never written a World Cup song, have you?
PW: No, I've never been asked. I wouldn't mind having a go at it.
IE: It seems like they're usually kind of iffy. And there's a lot of pressure if the whole world's got to like it.
PW: Yeeeeah. There's a song on my new album called "7 & 3 Is The Striker's Name" — that would be a good song. I could rewrite the words.
IE: What's an album release mean to you these days? Excited, relieved, unsettled . . .
PW: No, I'm very very happy with it. It's a mixture between excitement and nervousness because you want people to hear what you've been working on, but nervous about what people think of it and how it's received. But every record's important to me. Doesn't matter how many I make — they're all important.
IE: What makes Wake Up The Nation what it is?
PW: Well, it's 16 tracks but it's also only 40 minutes. Very short, concise songs. I think only one runs four minutes. There's quite a lot to take on, a lot of information, but because they're such short bursts hopefully it's the sort of thing someone listens to all the way through and then wants to start again.
IE: When you're putting that many compact songs together, how much stressing goes into making sure 16 two-minute songs don't sound like 16 two-minute songs?
PW: It's like any record, really. You could have carried on and added another six songs, but we knew when we were happy with it. We're constantly compiling the songs and trying to get a running order — at least once a week — and you begin to see after awhile whether it's finished or whether it needs more or different kinds of songs.
Paul Weller — former frontman for iconic British bands The Jam and Style Council — released his 10th solo album, Wake Up The Nation (Yep Roc), in June. Q&A By Steve Forstneger