George William Fullerton
Fender Hall Of Fame Inductee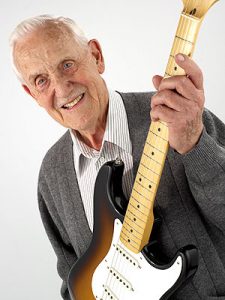 Chicago's Fullerton Avenue wasn't named after him. But Leo Fender would not have succeeded without him. In the mid-1940s, as a seasoned artist and working musician with a budding interest in electronics, George Fullerton became friends with Fender. The two men eventually became business associates after Fender enlisted Fullerton to sign on with the fledgling guitar and amplifier company. With his artistic sense and natural ability to translate ideas into practical processes and machinery on the shop floor, Fullerton contributed to the creation of several of the most important musical instruments of the last 60 years, including the Telecaster, Stratocaster, and the Precision Bass. Fullerton first reported to work at Fender in February 1948, after performing several years of freelance work for its founder. He became vice president in charge of production in 1959, and from that early era through the 1960s, he remained a rocksteady figure. Along with Leo Fender he retired from the company in 1970.
His son continues to work there; sadly, Fullerton passed away in 2009, but his legend lives on in every American-made Fender that has the Tele or Strat name on the headstock.
Alfred
Music
R.E.M. Guitar
Songbook
One of the most prolific songbook publishers in the world, Alfred Music Publishing has finally released its R.E.M.: Guitar TAB Anthology, the authentic guitar fakebook features what the company says are the "band's greatest hits of alternative rock." R.E.M.: Guitar TAB Anthology brings you 25 career-spanning songs from the ground breaking Athens, Georgia band, including their biggest modern-rock hits such as "Losing My Religion," "The One I Love," and "It's The End Of The World As We Know It (And I Feel Fine)." This band- approved collection is presented in full notation and TAB, with chords and vocal lines included. Many of the titles come from R.E.M.'s later years, which begs the question – will there be a companion book from the Murmur/Reckoning era? Other titles include "All The Right Friends," "At My Most Beautiful," "Daysleeper," "The Great Beyond," "Supernatural Superser-ious," and "Until The Day Is Done." Guitar TAB Anthology songbooks are widely available for $24.99. Fans can pick up a copy at their local music retail store, or purchase online at Alfred.com.
Hottie Inc.
5th Anniversary Hottie Amplifier
The amp that's made from a toaster has hit its 5th birthday. To celebrate their nickel anniversary, American manufacturer Hottie Inc., makers of Hottie Amps, has introduced its latest guitar speaker, the 5th Anniversary Hottie Custom Amp. Hottiess are solid-state units fitted in vintage American toasters and powered by 9-volt batteries. They use a 6-inch Jensen MOD speaker and have an output jack to drive an external speaker cab. Hottie Amps will power any 4, 8, or 16-ohm speaker cabinet. The 5th Anniversary Hottie Custom Amp is now available for $379. The cost of a toaster and the medical costs you'd incur on your own are higher.
— David Gedge