June 17th-18th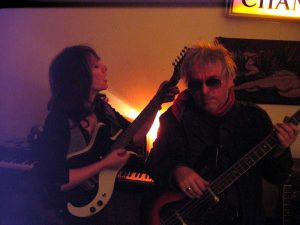 We searched the whole wide world just to find you these recommendations.
Apparently other people are sick of 'em, but we spend every night hoping the Blackhawks will come back on TV. That's the hard part about winning the championship: it's four months before you can see your heroes in action again. If I'm the NHL and I think the Blackhawks might win, I schedule two or three exhibitions against rival teams (Detroit, St. Louis, and a retro-fitted North Stars) who aren't allowed to check or touch the puck, just watch us score over and over again.
Ah.
Suppose you could head out to see Wreckless Eric & Amy Rigby. The dynamic duo — he of '77 punk single "(I'd Go The) Whole Wide World," she his wife and a noted singer/songwriter — have mailed their latest missive from their French home, this the Two-Way Family Favourites covers album. Though the artists from which they pick aren't too surprising (The Who, Byrds, Tom Petty, Beach Boys), the songs are. It takes a second for the hazy "Ballad Of Easy Rider" to unveil itself, likewise you keep expecting "Put A Little Love In Your Heart" to be a sarcastic sneer before you come to embrace its sincerity. As a rule, fakebook albums are dodgy, though for consistent sonics from front to back and a friendly tour on the horizon, Favourites makes the grade. (@Schubas; this is the early show, separate from Tom Brosseau & Angela Correa.)
Holly Golightly must have named her cat. The increasing role of male co-vocalists on Medicine County (Transdreamer) says as much. The rough-and-tumble songwriter, whose parents we can only assume chose her name from Breakfast At Tiffany's, is nevertheless manlier than most of her alt-country counterparts. Taking her rural Georgia home into her soul, "Eyes In The Back Of My Head" and "When He Comes" spank of the difference between authentic and homage, falling distinctly on the latter. (@Subterranean with Singing In The Abbey and The Nashville Wreckers.
— Steve Forstneger
Category: Featured, Stage Buzz, Weekly