Chicago Theatre, Chicago
Thursday, June 3, 2010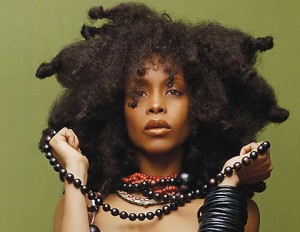 If you thought pop music had dissolved into flashy diva spectacles with lots of hooks and no soul or substance, you may have missed a few musical revelations. Specifically, Erykah Badu's singular brand of tripped-out soul and hip-hop funk, N.E.R.D's vivacious rock and hip-hop mélange, and Janelle Monáe's genre-smashing melodies reveal an intriguing alternative to pop-culture pap. In a concert that pushed past musical barriers, all three acts proved that music can still inspire thoughts as well as bootys.
A video flashing Badu and Lil Wayne trading rhymes over a free-flowing beat wrapped up with Badu showcasing a "Free Lil Wayne" T-shirt, setting the stage for a spontaneous, 90-minute, musical freefall. Noted for her off-kilter getups, Badu didn't disappoint, gliding on stage in a black trench with a hat pulled low over long, bronze-colored hair. Hovering between her laptop, drumkit, and seven-piece band, she launched into the dramatic ballad, "20 Feet Tall" casually, like she was singing to a group of friends. And she was: a large, dancing, multicultural group of friends who sang along to all of her tunes and were greeted with "Peace and love, how you all feel?"
She skimmed cuts from her new CD, New Amerykah Part 2 (Universal Motown), playing a portion of her controversial "Window Seat" video and abruptly stopping it with no comment, perhaps as a response to the censorship of her dynamic performance art. By the time she reached her first hit, 1997's "On And On," she had thrown off her coat and hat to display a mod mini dress and superhero-worthy cuff bracelets. Fittingly, she dived into a Sun Ra classic, "Nuclear War," chanting "They gonna blast you so high so high/gonna blast your ass so high so high/burnt up grass/burnt up ass/ goodbye ass." Badu's range of influence extends from Ra's jazz classic to a soaring version of "Believe In Yourself" from The Wiz, and in the middles of her own 1997 classic "Love Of My Life," she spit verses from Whodini's "Friends" as well as N.W.A.'s "Gangsta, Gangsta," effortlessly connecting jazz to soul, pop, and hip-hop.
Kicking off with the Jimi Hendrix version of "The Star Spangled Banner," N.E.R.D. turned the staid Chicago Theatre into a sweaty nightclub, keeping the crowd on their feet with high-powered rock/hip-hop hybrid via tunes like "She Wants To Move," "Everyone Nose," and "Hot-N-Fun." But the showstopper arrived when Lupe Fiasco strolled on stage to do Pharell's verse in "Drop it Like It's Hot," only to be rushed off stage because the group had gone over their time limit.
Janelle Monáe mesmerized as the opening act, dancing and singing with such energy that her trademark pompadour fell to her shoulders. Her sweet, nuanced voiced poured over her hits "Tight Rope" and "Cold War," but it was her interpretation of the Charlie Chaplin classic "Smile" with which she demonstrated such soulful power that she received a standing ovation.
— Rosalind Cummings-Yeates
Category: Featured, Live Reviews, Weekly