Invictus
Warner Bros.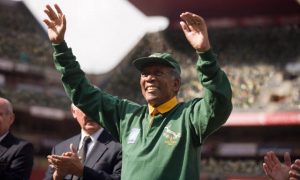 Like most Americans, I consider myself fairly knowledgeable about most sports out there. Yet if asked about rugby, I'll cop to being the guy whose eyes glaze over before lamely replying that "it's football without pads" before desperately trying to steer the conversation back to baseball.
Yet after watching Clint Eastwood's Invictus, I can proudly say that my insight into that rough-and-tumble world has increased twofold: I can now let people know that you can pass the ball sideways or backwards, but not forward. Take that, highly paid ESPN analysts!
But of course, Invictus is as much a movie about rugby as Million Dollar Baby is a movie about boxing. Eastwood's films are never simply about the subject matter.
Teaming for the third time with Morgan Freeman, Eastwood takes a hard look at post-apartheid South Africa. It's a society coming to grips with decades of discrimination and injustice that finds itself under the leadership of the most famous recipient of said injustice, Nelson Mandela.
In the eyes of the people, one of the symbols of the old guard ways is the national rugby team, the Springboks. It's believed that everything about the team, from their name to their colors, be changed to erase the memory of the old ways. Mandela intervenes. He knows that to try to bring unity to a deeply divided nation, the old ways have to be recognized and forgiven instead of abolished with malice.
To that end, he enlists the aid of Springboks captain Francois Pienaar (Matt Damon) to rally the team to win the 1995 World Cup.
Eastwood's directorial accomplishments have long-since eclipsed his work as a mere actor, and he should rightfully be regarded as one of the best directors this country has produced. Yet Invictus, while being a very powerful and insightful look at the world we live in, doesn't quite place on the list of his finest work. It's close, but just misses. The pacing drags a bit too much at times, and, since rugby hasn't been explained in much detail, the climactic game between the Springboks and the dreaded New Zealand All-Blacks doesn't have the big-game impact that it should.
Still, those are just a couple of minor quibbles, and saying a film doesn't rank with Eastwood's best is in no way a damnation. He's just set the bar so high.
Blu-Ray features include picture-in-picture insets featuring the real-life people involved, a segment on Freeman meeting Mandela, and Eastwood looking back over his directorial career.
Film:*** Features: ***
Free Forever
Eagle Vision
It's inevitable: at some point in their set the cover band playing the local club/wedding/bar mitzvah is gonna break out Free's "All Right Now." It's a law, strictly enforced by several government agencies and civic oversight committees. Well, maybe it just seems that way.
Yet Free were more than just their signature hit. Paul Rodgers, Paul Kossoff, Andy Fraser, and Simon Kirke concocted a down-and-dirty blues-based unit that on any given day could out-Stones the Stones.
Free Forever takes highlights of Free during their early-'70s height to argue the case. Television appearances from Germany and Granada highlight the first disc of a two-disc set, while the second focuses on their often overlooked performance at the 1970 Isle Of Wight festival.
With interviews and audio-only portions, it's a great reminder of an influential band who, while not around long, left an impressive mark.
Film: ***1/2 Features: ***
Also available . . . Sammy Hagar is still pissed about that whole Van Halen thing. So what does he do? Swipe former VH'er Michael Anthony, nab a hotshot drummer (Red Hot Chili Peppers' Chad Smith), and enlist a dazzling guitar virtuoso (Joe Satriani) to form Chickenfoot. That'll learn 'em! Chickenfoot: Get Your Buzz On Live finds the four not being Van Halen on and off stage over the course of three concerts. Hagar's always been a lovable meathead who doesn't take himself too seriously, and when members of Spinal Tap show up, you know that nothing's changed a bit.
— Timothy Hiatt
Category: Columns, Digital Divide, Monthly