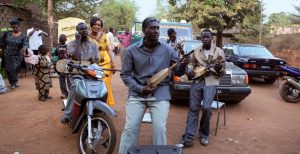 The city's annual celebration has never been limited to Grant Park, and often the most memorable sets happen in the surrounding venues.
The big story this year is obviously the grand-opening of the new Buddy Guy's Legends. The official welcoming party isn't until the 15th, but beginning tonight and running through the festival are bound to be special sets and otherworldly jams.
Over in Millennium Park, the tributes to Muddy Waters begins with some unlikely ambassadors, namely Africans Bassekou Kouyate & Ngoni Ba on the 10th. The duo actually have an album, I Speak Fula, on Seattle-based rock label Sub Pop, and woven into its melange of Dark Continent folk is a decidedly moody undercurrent.
On Friday, look for Lil' Ed at Rosa's, Sugar Blue at Reggie's, and Willie "Big Eyes" Smith at Harlem Ave in Berwyn. Marty Sammon takes over Harlem on Saturday, while Sugar Blue moves to Rosa's so Bobby Parker and Jimmy Dawkins can show Reggie's what's up. On Sunday, David Honeyboy Edwards ventures up to Space in Evanston.
We'd also be remiss if we didn't recommend Blues On The Fox in Aurora next weekend, which features the "Joined At The Hip" collaboration between Pinetop Perkins, Willie "Big Eyes" Smith, and Hubert Sumlin, as well as Jimmie Vaughan, Tinsley Ellis, and Trombone Shorty.
— Steve Forstneger
Category: Featured, Stage Buzz, Weekly