Congress Theatre, Chicago
Friday, May 14, 2010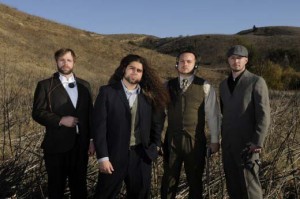 I used to think Coheed And Cambria were the J.R.R. Tolkien of bands, but it turns out they're really George Lucas.
Prequels, baby. Having based their previous four albums on frontman Claudio Sanchez's "Amory Wars" comic books, Coheed ran a brief tour of four-night residencies to play their epics in succession. Afterwards, heads were put together, 2-liters of Jolt were drained, 20-sided dice were rolled, and it was decided the beginning-beginning of the story would be told on this spring's Year Of The Black Rainbow (Columbia). The plot, however, has taken a backseat to the band's musical evolution, which is a relief for those of us who equated digesting Peter Jackson's Lord Of The Rings movies to the cultural equivalent of compulsory military service.
But put succinctly, Coheed are aging. Punk and hardcore influence continue to retreat from the songwriting, and the plodding nature of '70s prog and Euro metal has assumed the captaincy. Black Rainbow is a markedly overcast and dreary affair, a battle between band and producers won by the latter. It's a shame such a heavy shroud drapes the record, because the guitar work — specifically the interplay between Sanchez and Travis Stevers on "When Skeletons Live" — can be top notch. Debut drummer Chris Pennie fills in adequately, showcasing chops and gamely bliggum-bligguming to match the dense score.
Circa Survive and Torche open.
— Steve Forstneger
Category: Stage Buzz, Weekly