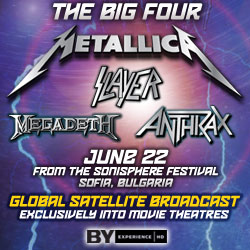 It's not quite what everyone was looking for, but Metallica, Slayer, Megadeth, and Anthrax will share the stage on June 22nd. Tickets on sale TODAY!
The catch is the show's in Sofia, Bulgaria and will be simulcast to theaters worldwide. Four-hundred-and-fifty U.S. theaters will carry the event, what's unclear is the time of day, as Bulgaria is 8-hours ahead of Chicago. June 22nd is a Tuesday, so that might mean taking a halfday at work if it begins at a reasonable 8 p.m. Baltic time.
Oddly, this comes in a summer when three-quarters of the original European Clash Of The Titans tour rolls through the States. Slayer, Megadeth, and Testament took Suicidal Tendencies as their opener in 1990; Slayer, Megadeth, and Testament play UIC Pavilion on a rescheduled August 22nd. (Alice In Chains opened the U.S. jaunt, on which Anthrax replaced Testament.) This is believed to be the first time Metallica and Megadeth have shared a stage; Dave Mustaine was ousted from the former in 1983.
Visit thebigfourlive.com for more information.
— Steve Forstneger