Everything's A Blur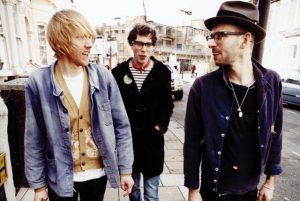 Distortion in rock 'n' roll used to be extremely violent. True to form, guitarists like Pete Townshend and Dave Davies achieved the sound by literally stabbing holes in their amplifier speakers. Over the years, of course, distortion was harnessed and polished for Sears commercials and kiddie TV theme songs, another casualty into the yawning maw of human life.
As a form of juvenile rebellion, we began to celebrate such manipulators as My Bloody Valentine's Kevin Shields, whose experiments with distortion and volume redefined loud, retained some of the violence, and recontextualized it as a pop-music adjunct. Though his work is giddily carried on by the likes of Serena-Maneesh and Fuck Buttons, a divergent movement has sprung from within the ranks.
Just like Vivian Girls, Japandroids, and labelmates No Age, Male Bonding have distorted the crap out of their debut album, Nothing Hurts (Sub Pop), without really confronting you with it. It's there — you can't miss it. But the speed and soundwash are so out of control you become magnetized to the melodic core. Co-vocalists Kevin Hendrick and John Arthur Webb physically strain themselves to be heard, but the effect is akin to awakening in a room with a box fan billowing — damned if you can't make out precisely what the birds are chirping outside.
"Sonically the record's more . . . not produced," says drummer Robin Silas Christian, "but you can hear things more clearly. There's only three of us in the band so we want each to have an equal platform. Basically we told [the mixing engineer] we wanted everything at the same volume, and that's what he did."
The effect isn't jarring, but oddly like summer. Nothing Hurts offers tunes for a highway spin with the windows down, only you need neither to be driving nor pounded by air to experience it. Male Bonding even provided the speed.
"We're always playing fast," he agrees. "Most of the music we like isn't fast at all. But we're probably quite fast. I think the songs are more short than fast."
If Male Bonding come off like a record geek's dream, that's because they are. Christian, Hendrick, and Webb met while working as music-retail clerks and actually conceptualized themselves — name and all — before playing a note together.
"We worked in a second-hand shop called Reckless — like you've got in Chicago — and played in different bands," which also led to sharing an apartment. "We knew we'd do something together," Christian says, "but it took awhile because we were doing different stuff. We had a whole concept before we played music. We just had the idea of more melodic [songs] than other stuff we'd done, but more simple."
It hasn't taken long for it to catch on. They began releasing 7-inch singles on their own label called Paradise Vendors, and playing intense parties with like-minded neighbors in the Dalston neighborhood of London. Eventually they were opening shows for Vivian Girls, Fucked Up, and Crystal Castles before the collectors at Sub Pop Records ordered a batch of records and quickly followed suit with a contract.
While the overall presentation is uniform, lurking within Nothing Hurts' cavernous structure are the memories of highly produced, pristine pop. Opener "Year's Not Long" comes to recall The Ronettes via Glasvegas, which is easy to forget when the set jumps into a more standard lo-fi romp of "All Things This Way."
File
In The Radio
While the record labels continually empty chambers and reload hoping to find that magic bullet, record stores have taken charge and adapted themselves to the crashing and surging marketplace. At 5045 N. Clark St. in Andersonville (less than a mile west and slightly north of the Aragon and Riviera), Transistor has taken steps to be a most unusual brick-and-mortar. Though not strictly a music retailer — art, books, and electronics jostle with vinyl displays and CD shelves — owners Rani Woolpert and Andy Miles' attitude toward performance puts it at arm's length from more traditional in-store bookings. Yes, the last Friday of each month features local bands with a BYOB perk (if only the neighboring Hop Leaf let you walkabout with a goblet), but it's weekends where things get interesting. Saturdays can feature activities as canny as upstart photography classes, and Sunday is the real pearl: an on-site webcast from the store's built-in radio booth while customers slurp amber booze and play ping-pong.
— Steve Forstneger
For the full interview, grab a copy of Illinois Entertainer, available free throughout Chicagoland.