House Of Blues, Chicago
Monday, April 12, 2010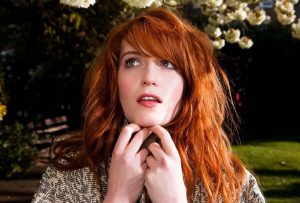 Florence Welch is no fluke. The British 23-year-old wowed an already converted, sold-out audience during her debut Chicago appearance. In just over an hour, the fiery redhead's bellowing vocals and surprisingly demure demeanor brought her lone album, Lungs to life with the determination of a woman poised for world dominance.
Taking notes from the Stevie Nicks fashion handbook, Welch twirled and preened in a diaphanous black-lace shawl and matching dress while her five-piece backing band compensated for the lack of the album's bells and whistles with straight-on, percussion-heavy rock. A fluttering, whimsical harp injected some poetic romance to the compositions, but Welch's voice did all of the hefty lifting. At turns petite and often bordering on operatic, her pipes could make men jump ship and plunge to a murky death at its calling. Celine Dion might have the market cornered on hitting notes only small animals can hear and Mariah Carey may win at an octave-jumping contest, but Welch can certainly hold her own. (Oddly enough, Welch often reverts to Dion's habit of pounding her chest when the songs turn riotous, and simulates Carey's hand-climbing motion when trying to stretch a note.)
Bathed in ghoulish back lighting, Welch opened with an intense, attention-grabbing "Howl" and veered into a peppy "Kiss With A Fist" before deconstructing "Drumming Song" into a three-part saga with a drawn-out coda that gave new meaning to delayed gratification. "I'm Not Calling You A Liar" transformed Welch from a rough-and-tumble creature with an inhuman lung capacity into a slinky chanteuse, while both the cascading "Lungs" and "Cosmic Love" threatened to tear the roof off in an effort to rejoin the heavens. The calypso, spring-break-ready rhythms of "Hurricane Drunk" stood in stark contrast to the song's post-breakup lyrics, yet the gothic, haunted-mansion vibe of the box set-only release "Hardest Of Hearts" fit perfectly, along with a deluge of strobe beams.
Welch seemed most comfortable during epic versions of "Dog Days Are Over" and "Rabbit Heart (Raise It Up)," where she was able to meld her rafter-reaching vocals with hand-clapping, dance-centric tunes that found the crowd enthusiastically pogoing to the brink of breaking a sweat.
— Janine Schaults
Category: Live Reviews, Weekly