Gospel Woman Blues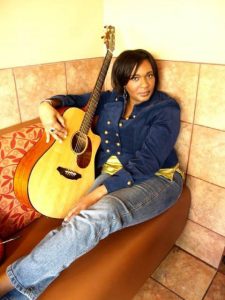 Although she didn't hear secular music until she was a teen, Valencia Bey always knew she wanted to be a blues/rock diva. She grew up in Chicago but her musical chops were formed in the Mississippi Delta, where she'd spend summers with her grandparents. There, she absorbed the intricacies of gospel music that would transform into blues once it left the church.
Appearing: Friday, April 16th at New Checkerboard Lounge in Chicago.
On her second CD, Coffee And Conversation (Brown Girl), the blues and several of its babies pump through the 12 tracks. From the driving blues of opener "Hello Sunshine," to the jazz undertones of "Already Home," and the rockin' blues of "Steps To The Sun," Coffee And Conversation showcases blues in its many forms. "My grandmother and mother referred to blues as 'that raunchy music,' but I realized that the structure of blues ands gospel were the same, just different lyrics."
Still, her parents didn't allow much secular music in the house. Bey heard mostly gospel mainstays like the Thompson Community Singers and Andrae Crouch and very little B.B. King and Z.Z. Hill. "We listened to a lot of gospel music. I heard it in church, on the radio, and at home. My uncle and his family had a musical gospel group in Mississippi and I'd travel with them to shows. I was surrounded by music and musicians and it all seeped in."
By the time her older brother introduced the spectrum of popular music when she was 14, Bey had selected Tina Tuner, Patti LaBelle, and Nona Hendrix as singing influences and Aretha Franklin, Bill Withers, and Curtis Mayfield as songwriting mentors. "I liked reading liner notes and lyrics," she says. "I had been writing songs since I was 8 and I learned to rewrite and rewrite. I listened to all of these artists to figure out how they did it."
Her biggest problem wasn't figuring out how to write songs. Bey comes from a family of educators and her mother insisted that she couldn't make a living playing music. Instead, Bey was expected to get her education degree. She refused and moved out to attend Jackson State University, majoring in music. While in college deep in the Bible Belt, Bey considered being a gospel artist and wrote spirituals and a gospel opera. She won a Christian songwriting contest in 2002 and was recruited by a gospel label rep soon after. But the agent left the label after a few months and nobody else at the company stepped in to sign her.
Not getting signed by a gospel label proved to be a good thing for Bey because she had secretly longed to play the guitar and sing rock, blues, and soul. "I always wanted to play but I didn't see a lot of black women with a guitar growing up. It was always the men," she says. "I will never forget my uncle sitting down to play the guitar after a long day on the farm. He got so much joy from it."
Eight years ago, shortly after her uncle passed away, she was drawn to an instrument retailer, bought a guitar, and promptly signed up for lessons. "Once I started playing guitar, I really left gospel music alone. Mainstream gospel and Christian music are too limited for me. I want to sing other types of music."
And sing she does. Graced with a husky, sinuous voice that recalls Oleta Adams, Odetta, and a little Joan Armatrading, Bey tackles bluesy laments, rock anthems, and soul ballads with relish. On "Young And Beautiful," a rock ode to female self-awareness, she belts out the chorus with all the power of Tina Turner; on "I'm Falling (Again)" she glides over the blues tune with a fire that recalls Koko Taylor herself.
"As a child and a teen, when I imagined myself singing on stage, I imagined singing with Patti LaBelle and Tina Turner, Nona Hendrix and Grace Jones. They were my wild idols. I guess that was the rock chick in me, screaming to get out." On stage, Bey combines the style of many of her idols, channeling blues divas and rock chicks with cascading guitar riffs and vocals that flow from sultry to pounding.
The deep emotions that inspire Bey's music also drive her to offer options for music fans. "I don't feel like someone who appreciates real music has a lot of options," she says. "Who's talking about the issues I'm going through about marriage, divorce? I feel like there's a void in songwriting from a female point of view." Bey focuses on providing that point of view for her audience as well as songs that flow from her heart. "I think artistry and simplicity is sometimes lost in popular music. You don't have to have a lot of noise and bells and whistles to touch people."
NEW RELEASE: Nick Moss releases his eighth CD, Privileged (Blue Bella), on March 16th. The album showcases a solid collection of blues grooves, with Moss' original "Georgia Redsnake" a catchy standout. The release party is set for the 20th at Buddy Guy's Legends.
— Rosalind Cummings-Yeates
Category: Columns, Monthly, Sweet Home