Snakes For The Divine
(E1)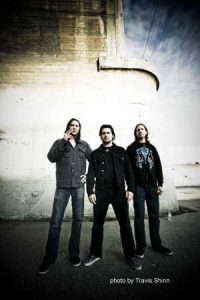 By all reasonable accounts – ignoring the kinds of people who insist Mastodon's Remission is better than Leviathan – High On Fire's 2007 Death Is This Communion is its magnum opus. That's partly because High On Fire is High On Fucking Fire and doesn't bother with shit that doesn't rule and partly because of the Oakland trio's collaboration with Jack Endino, whose organic, epic, raw-but-never-rough production helped that shit rule even more.
Appearing: Friday, April 2nd at Lincoln Hall in Chicago.
HOF's newest – fifth overall – album is an interesting proposition then because Endino doesn't return. The group used a different producer on each of its past four efforts, so it's hardly unexpected, but Snakes still sort of feels like a lost opportunity because of the switch to Greg Fidelman (who kiiiiinda sucked on the last Slayer, too). He doesn't ruin the album, but his dry, punchless production and awkward, clumsy mixing – shame on you, too, Don Gordon – doesn't do the material any favors. Frontman/guitarist Matt Pike is a bona fide Bad Motherfucker (it surely says so on his wallet), so Fidelman can be excused for bumping up Pike's carton-of-Reds-and-bottle-of-Beam howl and enormous, genre-defining guitar in the mix some, but too often his fascination with Pike makes him lose track of bassist Jeff Matz and skinsman Des Kensel (a powerhouse and mood-establishing drummer) altogether. Recording 101: A power trio is only as powerful as each member of the trio.
But the thing is, Fidelman's grandmother could have produced Snakes. Wouldn't of mattered. High On Fire is on top of every aspect of its game right now. "How Dark We Pray" proves Pike, Matz, and Kensel's songwriting continues to evolve; "Ghost Neck" proves Pike's guitar can save them when it regresses; "Bastard Samurai" proves HOF can play slow(er) without sacrificing impact; and "Fire, Flood & Plague" proves sometimes it best to just go as fast as possible. Snakes has moments ( Pike's blood-boiling "repelled" screams on the title track and the building intensity of "Bastard Samurai," for example) literally capable of spreading goose bumps. Those are the times   you listen, lean back in your chair, close your eyes, and think "Holy shit."
Does it have as many of those instances as "Communion"? No. But Communion could very well be a once-in-a-career album, so in this case there's no shame in releasing a follow-up that's only slighty less mindblowing. 
8
– Trevor Fisher