Messenger Service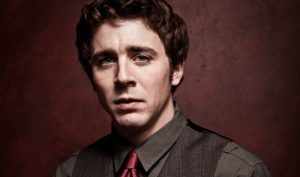 Joe Pug doesn't want you to poach his music from illicit Web sites; rather he wants to give it to you . . . for free. And he hopes you'll share it with others. Simply e-mail the Chicago-based singer/songwriter or sign up for his mailing list to receive sampler CDs meant for your personal enjoyment and to disperse among your social circle. The idea behind the strategically generous offer is simple.
Appearing: Saturday, February 27th at Lincoln Hall in Chicago.
"When people hear about my music from friends who they trust rather than from an advertisement on a radio station or MTV . . . when that person says, 'Hey man, you should check out this guy Joe, he's all right,' there's a lot more credibility there and I think there's a better chance of that person actually going out and listening," Pug explains. "And that's all you can ever ask for is for one person to listen to one song one time."
Pug plans on keeping the system intact despite this month's release of his first full-length album, The Messenger, and signing with Lightning Rod Records. One of the "sticking points" of the agreement reached with the label centered on the freedom to continue sending out CDs with at least one track from the new album to eager and potential fans.
Even at 25, Pug knows better than to stray from his humble beginnings. "You start grassroots and you continue grassroots," he insists. Whether it means playing six different living rooms in one wintry Chicago night; crisscrossing the country all alone in a minivan; opening for the likes of Josh Ritter and Steve Earle; or earning coveted slots at last summer's Newport Folk Festival and Lollapalooza, the earnest performer takes each step in stride. It sure beats toiling away at an unfulfilling day job.
After putting in time as a carpenter and sneaking into the studio at night to haphazardly lay tracks that eventually made up the attention-getting EPs Nation Of Heat and In The Meantime, Pug's relentless touring and self-promotion enabled him to focus solely on music and make a proper record.
"This is a very big deal. It's just one of those things where I dreamed and dreamed and dreamed about it and it's just as good in reality as it was in my dreams," Pug admits. "If I could just stay at this level where this is all I do, I can sort of have an income that takes care of the modest things that I need in life, then I'm happy. This is great."
One listen to The Messenger erases that pretty picture. Pug's stark vocals, deceptively simple lyricism, and inviting acoustic flair ensure his upward trajectory. The topical "Bury Me Far (From My Uniform)" puts him on par with Dylan's observational gifts while "Speak Plainly, Diana" allows him to concoct folk-rock magic with a full band. The solemn "How Good You Are" stabs a knife dripping with longing right through the heart just as a hopeful, Wilbury-esque jangle buoys the album's title track.
Turning to penning songs after dropping out of the University Of North Carolina one year short of graduating, Pug equates his playwriting studies to composing a ditty sans guitar in hand and "just really crafting words and spending a very long time crossing out one word and replacing it and then replacing it with the word that you crossed out and back and forth for 30 minutes – that sort of neurosis."
Despite his ability to break down an emotion's essence into prose, Pug often struggles with the words. "Writing has always been like really, really, really difficult. There's some writers who really look forward to it and they just sit down and the words just fly out. But, for me, writing always has and always will be – not exactly a torturous process – but definitely sitting down and doing battle," he confesses.
"It's the one thing that I can imagine no matter how many lifetimes you'd ever have, you'd never be able to master this. And what's really cool about writing is there's sort of this artistic side where quality is really undefinable [sic] and then there's the nuts-and-bolts side of just making sure everything fits perfectly in the meter," Pug says.
Like any true sucker for the written word, Pug cites Strunk and White's "Elements Of Style" reference guide when discussing how sometimes detouring from the beaten path can result in a better song.
"It's a really good book and it explains technical things . . . and there's a very brief passage on what style is, but at the end of the day no one knows what style really is. No one knows why this sentence sounds better than this other sentence, so it's all sort of a big fucking crapshoot. I love that part of the book," Pug says. "They spend all that time laying out these rules and then in the last half of the book they explain why it's totally all right to break those rules if the sentence just sounds better."
Songs don't get the seal of approval until Pug performs them for an audience. "It's something about being there in the room with all those people experiencing what you've written. You get much more attuned to the shortcomings than you would have been in your bedroom the night before," he explains. "So, I get a chance to go out and live with these songs for a little while before I record them and make them part of my catalog."
Left to his own devices, Pug would choose to stay on the road. "I really get off on the grind of tour," he admits. "Just going to work at these different clubs, sometimes playing for 30 people, sometimes 100 – that's the true vaudeville lifestyle. That's really getting in, paying dues, and having crappy shows and having crappy turnouts sometimes and then being really surprised. I mean, the highs and the lows of that are really what makes it exciting."
And if he ever feels the itch to perform, he can always find the nearest living room.
— Janine Schaults