FitzGerald's, Berwyn
Saturday, February 27, 2010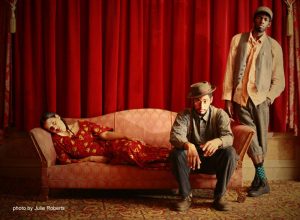 It's invoked to be provocative, but with an album as good as Genuine Negro Jig (Nonesuch) you almost wonder if Carolina Chocolate Drops have done their music a disservice by drawing attention away from it.
Purposefully exploring black, string-band roots, Genuine Negro Jig can very definitely be interpreted as a slap at white hipsters who've waded in these pools for years, and can also lead to charges of racism — not necessarily against whites, but, as a Newsweek article put it, insisting blacks have a downtrodden "authenticity" unavailable to the "overcivilized." No matter your position, anything resembling bluegrass is generally attributed to white, mountain musicians and CCD faithfully dredge up an overlooked history. If any branch of Southern music has any attribute, it's a mix of cultures.
It's a discussion easy to offend and rife with peril, so you can see how easily it is to forget the music within. For their replication, CCD went with Joe Henry (Solomon Burke, Elvis Costello) if you need proof they're not militant about this. The album does Sarah Vaughn-like torch songs with "Why Don't You Do Right?" and front-porch woodshedding ("Trouble In Your Mind"), yet they're skilled enough to even make Blu Cantrell's 2001 single "Hit 'Em Up Style (Oops!)" feel like a period piece. The band sound a perfect fit for FitzGerald's, so much you could probably paint a mural of the concert without having seen it.
They also play Sunday at Schubas.
— Steve Forstneger
Category: Stage Buzz, Weekly