ilentertainer | Jan 27, 2010 | Comments 1
American Artifact: The Rise Of American Rock Poster Art
Gene Siskel Center, Chicago
Saturday, January 30, 2010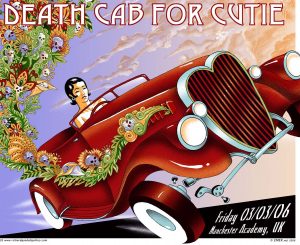 Between this weekend and February 4th, the Siskel Center will be screening American Artifact: The Rise Of American Rock Poster Art, a film that praises psychedelic poster art.
Don't approach the film in hopes of the nerdy guy ultimately getting the girl: This is a guy's world but it doesn't set out for much other reward than looking at some hot prints. Director Merle Becker is more in tune with the ups and downs of rock-poster history, and celebrating the form than drawing any hyperbolic historical implications into his piece. (It's a more relaxing deal than flipping through countless prints at neighborhood art fairs and, well, you just might learn something.)
On the 30th, artists Jay Ryan, Steve Walters, Jim Pollock, and Mat Daly will be in attendance.
– Steve Forstneger
About the Author:
Comments (1)