Lincoln Hall, Chicago
Wednesday, January 27, 2010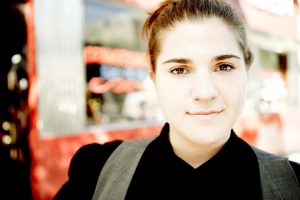 One more youngster with a voice that "belies their years" and we'll start raiding their lockers for HGH like BALCO and Barry Bonds. Chicagoan Daphne Willis is 22, sounds 22, and writes about 22-centric things.
Before you snap about R. Kelly and 13-year-olds, the point we're making is that everything about Willis' full-length debut, What To Say (Vanguard), fits. While the hyper-media generation has had its capable spokespersons in Lily Allen and Alicia Keys (who pulls away from the piano long enough to text her new-album's lover), the singer/songwriter community is infested with infants fixated on issues their time on Earth isn't fit to comprehend. Point 2: What To Say isn't insignificant or slight. To the contrary, it's highly relatable in a "glad I'm not that age anymore" sense of insecurity and general confusion. "Still Tryin" embodies this, asking "I try/So, should I just keep crying?" Before any sad-sack moping can dig in, however, Willis' robust vivacity (check the horns on "All I Know") routinely wins as life usually does at that age.
The Right Now and Matthew Santos open.
— Steve Forstneger
Category: Stage Buzz, Weekly